Costly ninth nullifies Samardzija's seven-inning gem
Costly ninth nullifies Samardzija's seven-inning gem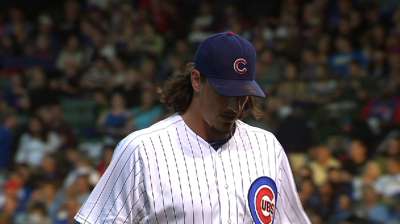 CHICAGO -- With the July 31 non-waiver Trade Deadline less than 48 hours away, Jeff Samardzija's name has come up in trade rumors even after the Cubs have already dealt two members of their starting rotation and a couple position players.
But despite a 5-0 loss in the Cubs' series opener against the Milwaukee Brewers in front of 32,848 at Wrigley Field on Monday night, the story of this game was in large part Samardzija, who said he's only thinking about the here and now.
"It wouldn't be a good move," the right-hander said of a potential trade. "I haven't thought about it at all, to tell you the truth."
Samardzija (6-9) dominated Milwaukee hitters over seven scoreless innings, allowing just three hits while walking two and striking out seven, and not yielding a hit until the fifth inning.
"I've been feeling great these last few times out," Samardzija said. "I'm pretty happy with how everything went. I kept the walks down, the leadoff hitter got out a lot, I was pretty efficient out there so I felt pretty good."
With the performance, Samardzija joined fellow pitchers Chris Rusin and Travis Wood as the first Cubs trio of starters to complete three consecutive outings of at least seven innings and no earned runs allowed since Bill Hands, Milt Pappas and Juan Pizarro did so from August 3-5, 1971.
"He was completely dominating the whole game," Cubs manager Dale Sveum said of Samardzija. "He got the pitch count up through seven innings, but he did his job. You can't do any better than that."
Milwaukee wasn't able to mount any sort of threat against Samardzija until the sixth inning, when Brewers starter Kyle Lohse (7-7) singled with one out and Rickie Weeks walked.
Norichika Aoki then hit a ground ball headed up the middle that Samardzija deflected with his bare hand. The ball trickled away to his right but Samardzija picked it up and threw Aoki out. He would then fan Segura to preserve the scoreless tie.
"I just didn't think [Aoki] hit it all that hard," Samardzija said of his play. "I figured I could get out there and grab it and maybe turn two, but I knocked it down and got an out. And knowing there was one out was a lot different. You go back and watch the film and you'll see it's probably a routine double play, but sometimes it's hard to bury that instinct."
Samardzija's other instincts were right on.
In the seventh, Milwaukee put two runners aboard with a two-out double by Grindl and a walk by Francisco, but Samardzija would once again bear down and escape the jam by getting Jeff Bianchi to fly out.
Milwaukee manager Ron Roenicke applauded the efforts of both starters.
"That was a good ballgame," Roenicke said. "Samardzija pitched well. Kyle pitched really well. I didn't know if we were going to score anywhere."
The Cubs had several scoring chances of their own beginning early on, when David DeJesus led off the first inning with a double to right-center. He would be stranded there, however, after Junior Lake struck out, Anthony Rizzo singled softly to left on a ball that DeJesus couldn't advance on, Nate Schierholtz struck out and Starlin Castro flied out to right.
The Cubs would put runners in scoring position again in the third, fourth and sixth innings, but were unable to push any runs across. They went 1-for-8 with runners in scoring position, and are now hitting .107 (9-for-84) in that situation since the All-Star break.
Sveum lamented the Cubs' inability to get clutch RBI hits, especially now that the poor production at the plate has extended into the first game of their homestand following a difficult road trip offensively.
"The last game in Arizona, and one other game in Arizona we scored one, and six runs [in San Francisco], and none tonight," Sveum said. "We have to get the bats going somehow."
The Cubs were undone in the ninth inning with the game scoreless, when Pedro Strop came into the game and issued a leadoff walk to Jean Segura. That was followed by a single by Jonathan Lucroy and an RBI single by Carlos Gomez to plate the first run of the contest.
The next batter was Grindl, who dropped down a sacrifice bunt. Welington Castillo fielded the ball and tried to get the lead runner at third, but pulled Luis Valbuena off the bag. With the bases loaded and no outs, the floodgates opened.
After Strop struck out Juan Francisco, Bianchi doubled home two more runs to make it 3-0. Rickie Weeks would cap the scoring for Milwaukee with a two-out double to right following a strikeout of pinch-hitter Yuniesky Betancourt.
"He made a pretty good pitch, the pitch to Gomez," Sveum said of Strop. "It was about a foot off the plate down and away, and he blooped it in. That was the big run, and then it snowballed after that. ... When things go good, Gomez rolls that slider and instead he bloops it in."
In the end, though, a great start by Samardzija turned into a loss because the Cubs couldn't muster any offense.
"You've got to score runs to win," Sveum added. "That's the bottom line."
Manny Randhawa is an associate reporter for MLB.com. This story was not subject to the approval of Major League Baseball or its clubs.