Rollins: 'Nothing wrong' with Pap voicing opinion
Rollins: 'Nothing wrong' with Pap voicing opinion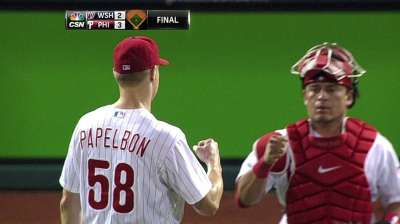 PHILADELPHIA -- The Phillies had a frustrating road trip.
It ended with an eight-game losing streak, and a terrible weekend in Detroit. After Sunday's 12-4 loss, closer Jonathon Papelbon voiced his disappointments by saying he "didn't come here for this," and that the organization needs changes "from top to bottom."
Monday, some of Papelbon's teammates got a chance to react to his comments.
"The man has an opinion, there's nothing wrong with that," Jimmy Rollins said Monday. "No one wants to go out there and lose, and I think what happened out there in Detroit, it wasn't good. It was embarrassing. So, if that's how he feels, you can't knock him for that."
The Phillies entered Monday 11 games back of division-leading Atlanta.
"I think that everyone is not happy with how things have gone, especially the last week or so," outfielder John Mayberry Jr. said.
Stephen Pianovich is an associate reporter for MLB.com. This story was not subject to the approval of Major League Baseball or its clubs.