Blue Jays think Melky will avoid suspension
Blue Jays think Melky will avoid suspension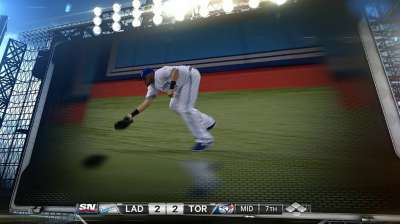 OAKLAND -- Major League Baseball could be on the verge of suspending more players for their ties to the now-defunct Biogenesis anti-aging clinic in Miami, but the Blue Jays don't feel left fielder Melky Cabrera is at risk for further punishment.
Cabrera was suspended for 50 games last season while with San Francisco after a test revealed he had elevated levels of testosterone in his system. Since then, multiple reports have connected Cabrera to the clinic, which allegedly supplied performance-enhancing drugs to ballplayers.
That would be a major cause for concern but in Cabrera's case, the Blue Jays think it's likely in reference to a past crime for which he already has been punished. That should be enough to keep Cabrera in the clear, according to Blue Jays manager John Gibbons.
"We don't think anything's going to happen, he served his penalty last year," said Gibbons, who added the club hasn't thought about a Plan B if Cabrera were suspended. "Major League Baseball is handling all that, so we don't know. But we think, since he served his time, it's over with. I haven't given it much thought and the GM hasn't talked much about it."
Milwaukee outfielder Ryan Braun was recently suspended by Major League Baseball for his association with Biogenesis. Braun is suspended for the rest of the season while other media reports have indicated that New York's Alex Rodriguez could be next in line for a suspension.
Other names are expected to surface in the coming days, but Gibbons said he hasn't noticed the case taking a toll on Cabrera. Toronto's starting outfielder had to deal with his past misdeeds during a road trip to San Francisco earlier in the season but has since put everything behind him.
There's still no official word from MLB on whether Cabrera could face an additional suspension.
"Melky doesn't say a whole lot," Gibbons said. "I mean, we get along great. In passing we'll talk, but he doesn't say a whole heck of a lot."
Cabrera entered play on Monday night hitting .284 with three home runs and 30 RBIs in 85 games this season. He returned early last week after missing almost a month because of soreness in his legs.
Gregor Chisholm is a reporter for MLB.com. Read his blog, North of the Border, and follow him on Twitter @gregorMLB. Paul Casella is a reporter for MLB.com. Follow him on Twitter @paul_casella. This story was not subject to the approval of Major League Baseball or its clubs.