Aramis' left knee progressing slowly
Aramis' left knee progressing slowly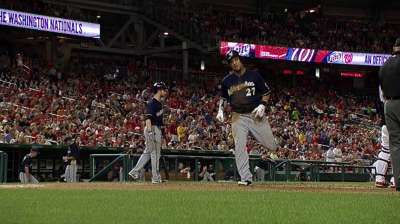 CHICAGO -- Injured Brewers third baseman Aramis Ramirez tested his left knee in batting practice again Monday, so there was progress.
Slow progress.
"I'm not healing as well as I thought I would," said Ramirez, who has declined all along to put a timetable on his latest comeback from a sprained left knee that has caused him trouble all season. "I don't know why. I'm doing everything I can, but it's not coming out like I hoped.
"It's probably going to take the offseason for me to get back to where I was. It's not going to happen during the season. But I'm going to try to get as close to 100 percent as I can before I come back. I don't want to be out there playing hurt if I can help it."
Ramirez has been on the disabled list twice this season for the injury. He returned to the DL before the All-Star break for what he and the team hoped would be the minimum 15 days, but discomfort has lingered longer than that. Ramirez said he did not know whether he would return to the Brewers' lineup "tomorrow or a week from now."
Was the team's place in the standings influencing the aggressiveness of his rehab?
"Not really," Ramirez said. "You still want to be out there and try to contribute. The guys, they're still going out there and playing. You want to be out there. Personally, I don't look at the standings. I just want to be out there and play, but right now I can't."
Adam McCalvy is a reporter for MLB.com. Read his blog, Brew Beat, and follow him on Twitter at @AdamMcCalvy. This story was not subject to the approval of Major League Baseball or its clubs.