Trade rumors swirl around Gregg, Schierholtz
Trade rumors swirl around Gregg, Schierholtz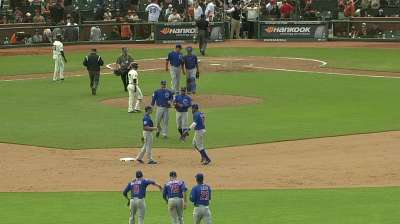 CHICAGO -- The Trade Deadline can't come soon enough for the Cubs' Kevin Gregg and Nate Schierholtz. The two have been rumored to be headed elsewhere for most of the month.
Gregg said Monday that he has "no idea" as to what will happen.
"You're going to see a lot of movement over the next couple days, and I'll just wait and see," he said. "And if I happen to see Theo [Epstein, president of baseball operations], I'll just ask him what's going on."
Gregg is checking the transactions wire to see what moves teams make.
"I like to see how organizations think, what they need, what they're willing to give up for certain guys," he said. "It's fun. It's kind of a shuffle -- who's doing what to make that last push."
If he's traded, Gregg said he would consider coming back to the Cubs.
"We'll see where we're at at the end of the year and I'm sure I'll have a conversation with Theo after the year if I do get dealt," Gregg said. "I like it here. I've really enjoyed my time here in Chicago. I like the organization, I like the coaching staff, I like the players. If you're happy with everything, it's a good place for you."
Schierholtz is happy with the Cubs, too, but also an attractive option for a team needing a left-handed bat and solid corner outfielder.
"It's always a good thing, I think, to be in trade rumors or have the possibility to be traded," Schierholtz said of the positive talk, "but like I said, I'm happy here and I want to be part of the future here."
Carrie Muskat is a reporter for MLB.com. She writes a blog, Muskat Ramblings, and you can follow her on Twitter @CarrieMuskat. This story was not subject to the approval of Major League Baseball or its clubs.