Slumping hitters come to life in a big way
Slumping hitters come to life in a big way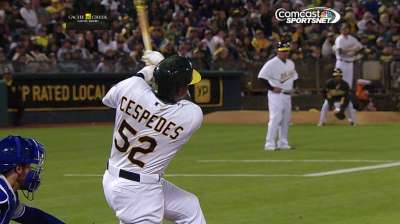 OAKLAND -- This is what happens when Oakland's offense is clicking on all cylinders.
A hot-and-cold A's lineup received contributions from top to bottom on Monday night, notably from players who hadn't recorded a hit in days, to jump out to a seven-run lead over the Blue Jays and eventually claim a 9-4 series-opening victory.
Seth Smith, who extended his hitless streak to a career-long 30 at-bats in the first, found his way out of it with an RBI double in a three-run fifth. Josh Donaldson, 0 for his previous 17, singled in the same inning and scored on a double off the bat of Josh Reddick, who entered the day batting .188 over his last 15 games.
Then there was Yoenis Cespedes, always one hit away from a hot streak as manager Bob Melvin constantly says, who may finally be well on his way to one following his second three-hit game in as many days.
"Just got to keep pounding away and you're going to turn it around at some point," Reddick said, "and that seems to be what we've done today."
Cespedes, whose average hasn't strayed far from the .220 mark all season, collected a two-run double in a four-run first and another hit in the sixth, before launching a solo shot to left field in the eighth to snap a 25-game homerless streak.
Oakland's outfielder, who hadn't hit one out at the Coliseum since May 19, has seven RBIs over his last 10 plate appearances. He had just one in his previous 67.
"I don't feel good because of the home run," Cespedes said through A's coach and translator Ariel Prieto. "I feel good because I'm starting to feel better. Yesterday I got three hits, today I got three hits, and it's because of the adjustments I've been working on."
Cespedes used the Spanish phrase "granito de areno," which translates to "grain of sand," to relay feelings that he's finally doing his part, contributing his grain of sand, to an offense that seems to find its groove when he does.
"The period where we weren't swinging the bats well, it looks like we're coming around some," Melvin said. "Considering the fact [Cespedes and Reddick] hit 3-4 for most of last year, those are two important cogs for us. We've had some other guys pick it up. Obviously what Donaldson's done for us this year and what Jed [Lowrie]'s done for us has been huge. We always remain encouraged. They're too talented to stay down for too long."
Overall, the A's got 11 hits combined from seven players, knocking out starter Esmil Rogers with one out in the fifth in support of winning hurler A.J. Griffin.
As feeble as Oakland's offense often seems, it's nights like these that offer a reminder of the club's ability to clobber teams with both its pitching and hitting.
Monday's win, the A's fourth in a row, pushed them a season-high 20 games over .500 and kept a six-game division lead over the Rangers intact.
This is the same club that was in third place on May 16 with a 20-22 record and trailed Texas by 7 1/2 games. Since, the A's have gone a Major League-best 43-21 and have picked up 13 1/2 games in the standings.
"Cespedes is definitely important to our lineup. He's got every tool that you can ask for," Donaldson said. "More importantly, it's going to take more than just him. It's going to take everybody. It's a team game, and it was really nice to see [Smith] break out tonight and nice to see Reddick get that double. If we can continue to get contributions up and down the lineup, it might not be the most terrorizing lineup in the league, but it's definitely going to be a lineup that can put up runs."
Griffin took a no-hitter into the fifth inning, only to watch it quickly disappear when Adam Lind hit a solo homer to center field. He allowed two more homers in the sixth, not giving up a hit that wasn't a long ball until there were two outs in the seventh, which would be his final frame.
The righty now leads all Major League pitchers with 26 home runs allowed.
"It's pretty frustrating, but today was a little different story," Griffin explained. "I had a [seven]-run lead. I was trying to get ahead of guys and get us back to the dugout as quick as possible. I got behind a few guys and threw them the fastball and they hit it over the fence. That's their M.O. pretty much. They just go up there and rip it and swing as hard as they can.
"Coming out of there with a good team win, that's the biggest thing I think, and we're just going to try to keep on rolling."
Jane Lee is a reporter for MLB.com. This story was not subject to the approval of Major League Baseball or its clubs.