Long road trip begins with a thud
Long road trip begins with a thud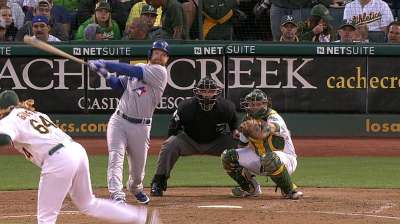 OAKLAND -- Esmil Rogers prepared for this season with the expectation of being a reliever and now that he's spent the past two months as a starter, one has to wonder how much he has left in the tank.
Toronto's right-hander began his stint in the starting rotation with relative ease, but the positive results have been a lot harder to come by of late. That downward trend continued on Monday night as the Blue Jays opened a 10-game road trip through the West Coast in rather lackluster fashion.
Rogers allowed eight runs over 4 1/3 innings while a pair of defensive miscues did little to help his cause in a lopsided 9-4 loss to the Athletics in front of 13,309 fans at Oakland Coliseum.
"He wasn't very good tonight and he has to throw more strikes," Blue Jays manager John Gibbons said. "Against a team like this, they make you throw strikes or you pay for it. We didn't play a good game all around, we looked dead."
Batting practice "was good, they were bouncing around and everything looked good, and I don't know if it was falling behind early, but it was a less than inspiring game I'll put it that way."
Rogers joined the rotation at the end of May and in his first six starts posted an impressive 2.18 ERA and 1.12 WHIP. Since then, though, Rogers hasn't been nearly as effective and in the five ensuing starts he has a 6.43 ERA and 1.75 WHIP.
The results will undoubtedly draw some comparisons to Carlos Villanueva. The former Blue Jays right-hander took a similar career path to Rogers as he began both the 2011 and 2012 seasons out of the bullpen before eventually making the jump into the starting rotation.
Villanueva also enjoyed immediate success but in both seasons he eventually hit a wall as fatigue began to take over. Gibbons was quick to dismiss the possibility that something similar could be happening to Rogers and while the mid-90s velocity has remained relatively consistent, the same can't be said about his location.
"I don't think that should be a problem, but there are times he can scatter the ball a little bit," Gibbons said when asked if Rogers was at risk of running out of gas. "When he's on, he's pretty tough but he can get a little wild in there, too. Wild, not throwing all over the place, but just missing. This team right here, they work you, you get a free swinging team you can get away with some of that but tonight you can't."
Rogers found himself in trouble during almost every inning he was on the mound at the spacious Oakland Coliseum. With the exception of a three-up, three-down fourth, he had runners in scoring position during each frame and twice saw the A's send eight men to the plate in an inning.
It was similar to his last start against the Dodgers when Rogers allowed 10 hits, but unlike that previous outing, he was unable to work himself out of the jams. Oakland went 6-for-12 with runners in scoring position against Rogers and did all of the damage with just three extra-base hits.
Rogers allowed the eight runs -- six earned -- on nine hits and three walks while throwing 59 of his 97 pitches for strikes. When asked what his biggest issue was on the mound, Rogers didn't hesitate.
"My command," said Rogers, who also had to pitch through errors made by Jose Reyes and Edwin Encarnacion. "I didn't have any pitches for strikes, my breaking pitch, my fastball, I couldn't throw it for a strike but I'm going to prepare for my next start and try to be ready so it doesn't happen again."
The issues on the mound are nothing new for the starting rotation that was supposed to be the club's biggest strength this season but instead has been a major weakness. Toronto's starting pitchers have the second-worst ERA in the Majors (5.13), the fourth fewest innings (579 1/3) and the third-worst opponents' OPS (.803).
Blue Jays starters have now allowed at least six runs in six of their past eight games. Overall, the struggles have put a lot of added pressure on the offense and the latest loss was the 22nd time this year Toronto came out on the wrong end despite scoring at least four runs.
Toronto was held hitless through the first 4 1/3 innings but did begin to mount somewhat of a comeback in the fifth when Adam Lind hit a solo homer to left-center field. The power continued in the sixth as Brett Lawrie hit another solo shot while Encarnacion later added his 29th of the season on a two-run shot to left.
All four runs were scored against A's right-hander A.J. Griffin, who allowed four hits and two walks while striking out five over seven strong innings.
"I was trying to get ahead of guys and get us back to the dugout as quick as possible," Griffin said. "I got behind a few guys and threw them the fastball and they hit it over the fence. That's their M.O. pretty much. They just go up there and rip it and swing as hard as they can. Coming out of there with a good team win, that's the biggest thing I think, and we're just going to try to keep on rolling."
Oakland has now won four consecutive games and seven of its last nine to move a season-high 20 games above .500. The Blue Jays, meanwhile, are going in the opposite direction having lost 11 of their past 15 games despite just taking three of four from the Astros.
Toronto now finds itself nine games below .500 and trying to improve upon that while also dealing with the West Coast travel schedule could prove to be a daunting task.
"We just didn't play good tonight," Gibbons said in a rather fitting succinct way.
Gregor Chisholm is a reporter for MLB.com. Read his blog, North of the Border, and follow him on Twitter @gregorMLB. This story was not subject to the approval of Major League Baseball or its clubs.