Smith finds his way out of career-worst slide
Smith finds his way out of career-worst slide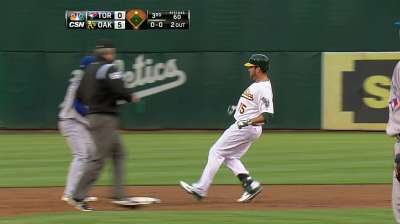 OAKLAND -- Mired in the longest hitless streak of his career, Seth Smith deemed his 0-for-29 stretch "frustrating and embarrassing" on Monday, but he also mentioned his timing is finally coming around again.
He proved it by going 2-for-3 with an RBI in Oakland's 9-4 victory over Toronto on Monday night.
"My swing has been fine," Smith said before the game. "Batting practice and in the cage, it's fine. It's just being able to get in a good hitting position and being able to see the ball out of the pitcher's hand. Those are two things I've been struggling to get comfortable with. It's tough to struggle during the season regardless of when it is, but having those days off during the break didn't help, because even before then I wasn't great. It's all snowballed."
But in recent days, Smith has "felt like I had a chance, so we're heading in the right direction."
That's good news for the A's, who, despite continually adding on in the win column, are watching several of their usual key contributors go through offensive woes. Besides Smith, Josh Donaldson and Josh Reddick have been in a funk, as was, until Sunday, Yoenis Cespedes.
"I'm closer than I was yesterday," Smith said. "I let some fastballs get deep and recognized them instead of plunging out and trying to reach out and hit them out in front, so that's a positive and something I'm excited about.
"We've been winning, so it's kind of taken the brunt off of it. ... Winning's nice, but you still want to be a part of winning. You don't just want to be the out in the lineup. So while I'm not worried about what my numbers say, I am worried about helping this team win. So the sooner I can do that the happier I'll be."
Jane Lee is a reporter for MLB.com. This story was not subject to the approval of Major League Baseball or its clubs.