Streaking Sogard promoted to the two-hole
Streaking Sogard promoted to the two-hole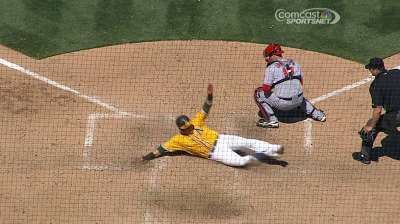 OAKLAND -- The Spring Training version of Eric Sogard is back, and his return couldn't have come at a better time.
Following Sunday's career-high-tying three-hit performance that extended his hitting streak to seven games, Sogard was promoted to the second spot of the A's lineup for Monday's series opener against the Blue Jays.
The move coincides with struggling times for Josh Donaldson, Josh Reddick and Seth Smith, who hit sixth, seventh and eighth, respectively, on Monday. Reddick has just three hits since the All-Star break, Donaldson one and Smith none.
"We've juggled the lineup over the course of the year," manager Bob Melvin said, "and we'll continue to depending on how guys are swinging."
During Sogard's hitting streak, the second baseman is 11-for-27 for a .407 average, with four doubles, a home run and six RBIs. He hit .444 with a .500 on-base percentage through 26 Spring Training contests but carried a .255 average into the break. It's now at .272.
Monday marked the first time all season and just the third time of his career that Sogard has hit as high as second, with 71 of his 72 previous starts this year coming in the eighth or ninth hole.
"I didn't say anything to him today, so he probably looked at the lineup and thought he had the day off when he looked down in the nine spot," Melvin said, smiling. "He's been swinging well and deserves to be up there. He kind profiles the spot, too. He can handle the bat a little bit, pull the ball in the hole when he has to, hit the ball the other way. He can be a hit-and-run type of guy."
Jane Lee is a reporter for MLB.com. This story was not subject to the approval of Major League Baseball or its clubs.