Quentin sits with sore left knee
Quentin sits with sore left knee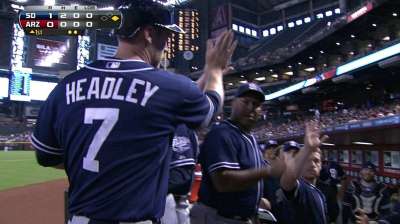 SAN DIEGO -- Padres outfielder Carlos Quentin was scratched from the starting lineup for Monday night's series opener against the Reds at Petco Park with a sore left knee. Mark Kotsay got the start in left field.
He injured himself on a swing during Sunday's game against the D-backs, but manager Bud Black said Quentin should be available to pinch-hit.
"Q's been going at it pretty good over the last 2-3 months," Black said. "We don't need to push through this today."
The move left the Padres without their hottest hitter. Quentin has driven in 20 runs in July, second in the National League behind the Nationals' Jayson Werth (21). Each of Quentin's RBIs has come in his last 19 games.
Quentin has had injury issues this season, but hasn't had to miss any extended periods of time. He's played 81 games after playing in only 86 in 2012. Black has preserved Quentin's health by giving him regular off days.
"We have to maintain his health, and Carlos is a big part of that," Black said. "How he goes about it every day as far as getting in the weight room and doing everything he needs to do to keep his knees in a playable condition."
Jamal Collier is an associate reporter for MLB.com. This story was not subject to the approval of Major League Baseball or its clubs.