Lake makes Wrigley debut after sizzling start
Lake makes Wrigley debut after sizzling start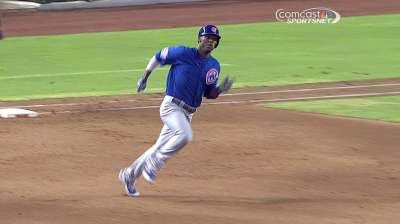 CHICAGO -- When Junior Lake arrived at Wrigley Field for his first home game on Monday, his gear was stowed in a prime space. Lake was given Alfonso Soriano's locker in the Cubs' clubhouse.
Lake has been in Chicago before but never played at Wrigley until Monday. The young outfielder opened his stint with the Cubs on fire, with 15 hits in his first 30 at-bats, but is 0-for-13 since an infield single in the sixth last Thursday. Manager Dale Sveum said the Cubs aren't worried.
"No, we're not going to panic over an 0-for-13 [stretch]," Sveum said. "He had to face [Tim] Lincecum, [Madison] Bumgarner and [Matt] Cain, so you're facing Cy Young's and guys that have done a lot of good things in their careers.
"Those are the things that, for a kid like him with the ability that he has, is the experience we talked about," Sveum said. "That's why you want some guys to be here a little bit earlier sometimes to get that taste and see Major League pitching on an everyday basis sometimes and have to make those adjustments."
With the departure of Soriano via trade, Lake has taken over in left field and will start in center against left-handed pitchers. Outfielder Brian Bogusevic is rehabbing in Mesa, Ariz., from a strained left hamstring. Will Lake stay the remainder of the season? Sveum said there's been no discussion about sending Lake back to Triple-A Iowa.
"As far as I'm concerned, he's going to be in there pretty much every day unless I feel he needs a day off," Sveum said.
Carrie Muskat is a reporter for MLB.com. She writes a blog, Muskat Ramblings, and you can follow her on Twitter @CarrieMuskat. This story was not subject to the approval of Major League Baseball or its clubs.