Reds bitten again by walk-off homer
Reds bitten again by walk-off homer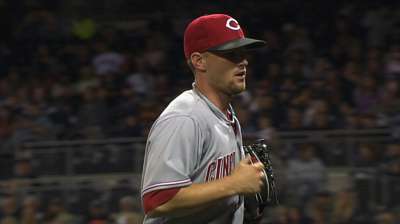 SAN DIEGO -- Back-to-back losses thanks to walk-off home runs are no doubt painful moments to absorb for the Reds. But it would be reaching for low-hanging fruit to simply blame the pitchers who allowed them or credit the hitters who cleared the fences.
Monday's 2-1 loss to the Padres, which came on pinch-hitter Chris Denorfia's titanic two-run homer in the bottom of the ninth against Aroldis Chapman, was a culmination of what happens when offensive production has all but ground to a halt.
"That's going to happen when you keep them in the game," Reds manager Dusty Baker said.
Chapman, called for the first time since Thursday to protect a 1-0 lead, walked first batter Yonder Alonso. Next came Denorfia, who sent a first pitch 98-mph fastball an estimated 423 feet over the center-field fence for the game-ender. Chapman's career-high fifth home run allowed gave him his fourth blown save in 28 attempts.
"They hit a home run, and there's nothing I can do," Chapman said through translator Tomas Vera. "It was a fastball like I throw to everybody. I just threw a fastball and he hit a home run."
An 11-game West Coast road trip that began with such promise, at 4-1, now has the Reds simply trying to hang on after four straight losses. Cincinnati, which scored 36 runs over the first five games, has scored only three runs over its last 38 innings. The Reds were 0-for-5 with runners in scoring position, while stranding 10 men, and are 1-for-23 in those situations over the last four games.
While the Reds were silenced by the likes of Dodgers lefties Clayton Kershaw and Hyun-Jin Ryu on Friday and Saturday, they were facing a less-accomplished right-hander in Sean O'Sullivan on Monday. O'Sullivan entered with 0-2 record and 4.73 ERA.
"Sometimes you've got to fight through these bad periods," Baker said. "There will be times things don't go right. You've got to keep battling and keep battling. Things will turn around for us."
On Sunday, a strong seven-inning, 11-strikeout performance by Tony Cingrani was rendered moot in a 1-0 loss to the Dodgers in 11 innings. The game's only run came on Yasiel Puig's walk-off homer and silly slide into home plate.
"It's not easy to do, especially walk-off homers," Baker said. "That's two nights in a row. Maybe we've got them all out of our system. That sure hurts."
This time, Reds starter Mike Leake was the one who deserved better after working seven scoreless innings.
"All you can really ask for is to go into the last inning with the opportunity to win," said Leake, who gave up four hits and two walks and struck out five to lower his ERA to 2.59. "That one hurts. We just need to bounce back and come back tomorrow and battle."
In the first inning, Leake endured a 23-pitch frame with a leadoff hit and a two-out walk but escaped. In the third, the right-hander wiggled out of a bases-loaded, two-out jam before facing the minimum over the next four innings.
Pitching in his native San Diego for the first time in the big leagues, Leake retired 12 of his final 13 batters with the lone exception being Everth Cabrera reaching on shortstop Zack Cozart's throwing error. Cabrera was promptly caught trying to steal second base by catcher Devin Mesoraco.
"I felt good those first three innings," Leake said. "Maybe I was being a little too careful instead of going just after them and attacking. I settled down after the third inning or so and just pitched."
After tying a season-high of 22 consecutive innings without a run scoring, the Reds finally got a runner across home plate in the top of the fifth inning. Derrick Robinson led off with a triple to the right-field wall against O'Sullivan. Cesar Izturis followed with a hard grounder to first base. Alonso fired home on the fielder's choice, but the speedy Robinson scored standing up.
The floodgates did not open, however. Jay Bruce blooped a ground-rule double near the left-field line in the fifth, and the bases were loaded on Xavier Paul's two-out walk, but the Reds came away without adding on.
Fortunately, the Reds had Leake to keep the Padres down. Then J.J Hoover pitched a scoreless eighth to set the table for Chapman.
Alonso was in a 2-2 count when he fouled off a pitch before getting back-to-back balls.
"It bothered me because he's a left-handed hitter," Chapman said. "It was a walk. Nothing I can do but just continue going."
Denorfia certainly prevented that from happening as he stopped the game on a dime.
"It's pretty sweet," said Denorfia, an ex-Reds outfielder. "That's one of those where if you hit it on the good part of the bat you don't really feel any vibration or anything like that those are the ones you know you got good."
Added salt is the third-place Reds' losing streak coincides with a four-game losing streak by the first-place Cardinals. By not taking advantage, Cincinnati remains five games back in the National League Central.
"It's a situation where we know all of his home runs are off left-handed pitchers," Baker said. "That's what they were saving him for. But we shouldn't have been in that situation. We left a lot of runners on base again."
Mark Sheldon is a reporter for MLB.com. Read his blog, Mark My Word, and follow him on Twitter @m_sheldon. This story was not subject to the approval of Major League Baseball or its clubs.