Denorfia's walk-off homer rescues Padres
Denorfia's walk-off homer rescues Padres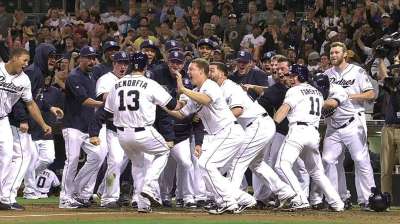 SAN DIEGO -- Around the eighth inning of Monday night's game against the Reds, Padres manager Bud Black told Chris Denorfia he would likely enter the game as a pinch-hitter.
The Padres trailed by a run in the ninth inning with no outs and a runner on first against Reds closer Aroldis Chapman -- who was throwing fastballs as hard as 102 mph -- when Denorfia was called to pinch-hit for Will Venable.
On the first pitch he saw, Denorfia sent a a fastball over the center-field wall seemingly as fast as it left Chapman's hand for a walk-off home run that gave the Padres a 2-1 victory at Petco Park.
The ball traveled an estimated 423 feet, making it the longest walk-off home run in the history of Petco Park. It was Denorfia's first career walk-off home run, and the third walk-off hit of his career. The other also came against Chapman on Sept. 25, 2010, when he ended the game on an RBI double.
"He's not going out there trying to trick anybody," Denorfia said. "He throws 100 mph."
Yonder Alonso led off the ninth and battled for a seven-pitch walk. The length of the at-bat allowed Denorfia to time Chapman's (3-4) delivery and fastball while standing in the on-deck circle.
Black said the sound is a little different than normal when the barrel of the bat connects with a ball coming in around 100 mph. Denorfia said it felt different, too, and he barely felt the ball come off his bat, but he couldn't tell that it was going to be a homer, even though 24,050 fans erupted as if they were certain.
"I'm not good at that," Denorfia said with a smile. "I hit the ball and I run. About halfway to first I realized it had a shot, but especially in this ballpark you never bank on a ball getting out of here."
Luke Gregerson (5-5) pitched a scoreless ninth to pick up the victory. The Padres, who have seven games left in their homestand, have won seven of their last 11 games.
Denorfia's heroics bailed out an offense that was punchless all night against Reds starter Mike Leake, who held the Padres scoreless on four hits with five strikeouts in seven innings in his first big league start in his hometown.
Leake was born in San Diego and grew up in nearby Valley Center. He matched up against Padres starter Sean O' Sullivan, another local product who remembers pitching against Leake in youth ball.
They had a conversation in the outfield during pregame warmups.
"It was cool to see someone you grew up playing against on the big league field," O'Sullivan said.
Said Leake: "I'm glad neither one of us got a loss. I wished I got a win. I'm glad we both pitched good."
Although O'Sullivan struggled with his command, issuing five walks, he held the Reds to one run on five hits in six innings.
O'Sullivan and Leake dueled through a scoreless first four innings while both teams left six runners on base.
A leaping grab at the right-field wall by the Padres' Will Venable took away a home run from Jay Bruce with one out in the third inning, but the Reds broke through in the fifth.
Derrick Robinson started the inning with a triple over the head of center fielder Alexi Amarista. The next batter, Cesar Izturis, hit a grounder to Padres first baseman Yonder Alonso, whose throw home was too late to stop Robinson from making it 1-0 Reds.
That run broke a streak of 17 scoreless innings by the Padres' pitching staff. It also snapped a streak of 22 scoreless innings from the Reds (59-48) offense.
Jamal Collier is an associate reporter for MLB.com. This story was not subject to the approval of Major League Baseball or its clubs.