Determined Arrieta to make Cubs debut Tuesday
Determined Arrieta to make Cubs debut Tuesday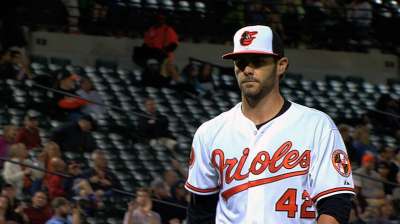 CHICAGO -- Jake Arrieta has put the Minor Leagues behind him, and plans on staying with the Cubs after Tuesday's start.
Arrieta, acquired from the Orioles on July 2 in the Scott Feldman deal, will make his Cubs debut in the second game of a doubleheader against the Brewers.
"I think it's a very good change for me," Arrieta said Monday.
He had three stints with the Orioles this season, going 1-2 with a 7.23 ERA in five starts. The right-hander was Baltimore's Opening Day starter in 2012.
"It was almost like a weight off my shoulders, really," he said of the deal. "I felt like I was able to do a lot of good things over there, but there were some things that kept me from being able to do it on a consistent basis. My time there was great, and I wouldn't change it for the world. There came the point where they felt a move needed to be made to better their team and better this team as well.
"I've got a lot to offer," he said. "I feel I'm a guy who can go out there and be a bulldog and pitch deep in games, and I know I can do it on a consistent basis so it's just a matter of finally going out there and doing it."
The problem this season has been not pitching on a consistent schedule. He's shuttled between the big league team and the Minors, and he has been in the bullpen. As he said, his routine was thrown out of whack.
"I need to get out there every five days and continue to battle," he said. "I think my career is as a starter, and I'm going to show I can keep it that way."
Arrieta tuned up for Tuesday's game by pitching for Triple-A Iowa. As of now, he's in the rotation Tuesday, and that's it.
"I think the performance will do the speaking, that will determine whether I stay here or go back to Iowa," he said. "I don't plan on going back. I plan on making it tough for them to decide and just go from there. I just think first and foremost, it's great to be here. First time in Wrigley, and as soon as I walked up those [dugout] steps, I got some chills. It's a park that I've heard about and knew a lot about as a kid. It's just special. I'm thankful for this opportunity."
Carrie Muskat is a reporter for MLB.com. She writes a blog, Muskat Ramblings, and you can follow her on Twitter @CarrieMuskat. This story was not subject to the approval of Major League Baseball or its clubs.