Johnson not focused on batting title chase
Johnson not focused on batting title chase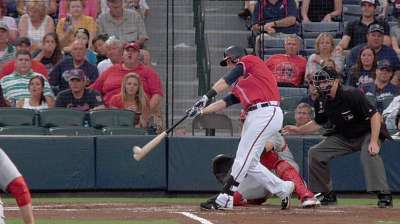 ATLANTA -- Chris Johnson reached a pair of important milestones in his unexpected march toward the National League batting title last week, passing St. Louis' Yadier Molina for the league lead in batting average with a three-hit night on Sunday, after finally amassing enough plate appearances to qualify.
Still, the Braves' hot-hitting third baseman is not focused on getting into a statistical battle with the Cardinals' All-Star catcher with a division race to win.
"I'm trying not to look at that right now," said Johnson, who was hitting .338 entering Monday night's game against the Rockies, just ahead of Molina's .335 average. "We got two months of baseball left. If I start worrying about getting more hits than him, it's just going to go downhill."
Johnson's .374 average in July is his best month in terms of average in his five-year Major League career, followed closely by the .369 clip he posted in the first month of 2013, when he was platooning at third base with Juan Francisco.
His time in the platoon helped him build up some comfort against left-handed pitchers.
"In my career, that's what usually brought [the average] down," Johnson said. "I wasn't really comfortable facing lefties, but now I enjoy it."
The third baseman has produced from a number of different spots in the order, most notably the No. 8 hole. From that spot, he has made 114 of his 329 plate appearances, hitting .343 with four home runs and 11 RBIs -- production that looks even better given the limited protection that comes from having the pitcher in the on-deck circle.
"If you're hitting eighth, the pitcher's behind you, so you have to know that and know there's certain times when they're not going to give you anything to hit," Johnson said. "I just try to be aware of the game situation, who's hitting behind you, if we're going to pinch-hit for the pitcher, stuff like that."
Johnson hit seventh during the St. Louis series, when he got a chance to pass Molina in person, and he found himself fifth in the order on Monday. Don't expect the third baseman's place in the order or the batting title race to affect his approach when the Braves head to St. Louis in mid-August -- or any other series, for that matter.
"I like being down there," Johnson said. "I feel like I come up in a lot of good opportunities, able to get on base and flip the lineup around, too, get the pitcher out of the way in that inning. I don't mind where I'm at."
Eric Single is an associate reporter for MLB.com. This story was not subject to the approval of Major League Baseball or its clubs.