For a change, Terdoslavich gets first career RBI
For a change, Terdoslavich gets first career RBI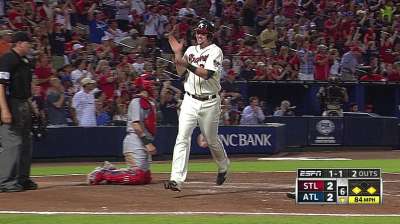 ATLANTA -- Joey Terdoslavich's pinch-hit, two-out single on Sunday not only gave the 24-year-old rookie his first career RBI, it ended a trying post-All-Star break stretch, during which he had been foiled by changeups on multiple occasions.
That type of tactical adversity is to be expected in a player's first month in the Majors, but with a sweep on the line in front of a national TV audience, Terdoslavich picked quite the time to overcome his off-speed struggles.
Facing White Sox starter Jake Peavy on July 20, Terdoslavich swung through three changeups for an inning-ending strikeout. In his first at-bat the next day, he popped out to second base after seeing nothing but changeups.
Then last Monday, Terdoslavich entered as a pinch-hitter with two outs and the bases loaded in the bottom of the seventh. Mets starter Dillon Gee threw him three changeups, and Terdoslavich came up empty on all three, spoiling an opportunity to turn around a 1-0 deficit.
Like Gee, St. Louis reliever Seth Maness threw Terdoslavich only changeups with two outs and runners on the corners in Sunday's seventh inning. But thanks to a helpful scouting report from hitting coach Greg Walker, and the confidence boost from a pinch-hit double in Saturday's victory, the rookie took the third changeup back up the middle for what proved to be the game-winning run.
"I chased those changeups, and I learned from it and realized they're not going to just pump heaters in there, just because they don't really know me," Terdoslavich said. "They're not going to give me anything good to hit unless I show I can lay off those pitches. I just got a little caught up in the moment in that at-bat [in New York], and then last night I was a little more comfortable and a little more calm and just didn't try to do too much, just took what the pitcher gave me."
In addition to adjusting to the complex challenge of Major League pitching, Terdoslavich is learning that pinch-hitting requires a more sophisticated approach than some light running or stretching to get loose.
He has taken to the mid-game routine of veteran Reed Johnson in recent days, heading into the clubhouse to take some swings and use other baseball activities to warm up for any potential pinch-hit opportunity.
"The last few days I've been hitting off the machine, taking at-bats off the machine and trying to get a good lather going so it feels like I've been playing in the game," Terdoslavich said. "That really made me feel the last couple days that I had been in the game the whole time. We have a TV in there, so I'd been watching the pitcher and who was warming up. Reed's been helping me out a lot, and the scouting reports have been pretty good."
After making a handful of starts during the depths of the Braves' outfield injury woes, Terdoslavich is also gaining an appreciation of the art of pinch-hitting, a role that has helped Johnson carve out a long and successful Major League career.
"When you come off the bench, you're not sure when the day starts who you're going to face, what he's going to throw you or when that is going to be," Terdoslavich said. "One at-bat a night, you can't try to do too much, and I think that's what makes Reed so good, is because watching him take his at-bats, he just takes what the pitcher gives him, and that's what I did last night."
As the Braves head into the stretch run, Terdoslavich has begun to make his case for sticking around, along with Johnson, as two of the team's trusted options in pinch-hitting situations.
Eric Single is an associate reporter for MLB.com. This story was not subject to the approval of Major League Baseball or its clubs.