CarGo goes 5-for-5 in return to lineup
CarGo goes 5-for-5 in return to lineup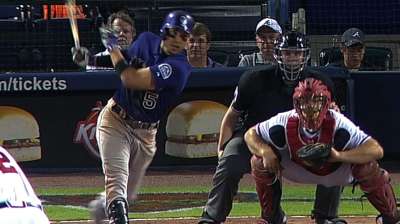 ATLANTA -- Rockies outfielder Carlos Gonzalez's sprained right middle finger didn't hamper him against the Braves on Monday night, his first action since aggravating the injury last Thursday.
Gonzalez went 5-for-5 to tie a career high for hits in a game -- he was 5-for-5 against the Cubs on May 14 at Wrigley Field -- and stole two bases in the Rockies' 9-8, 10-inning loss.
Gonzalez's steals brought his season total to 21. He also has 26 home runs -- one fewer than the Pirates' Pedro Alvarez, who overtook him for the National League lead on Monday.
Gonzalez has 20 homers and 20 steals in four straight seasons, the longest such streak in the Majors. Gonzalez and current Rockies hitting coach Dante Bichette (1994 and '96) are the only players in club history with multiple 20/20 seasons.
"I just didn't try to be too aggressive," Gonzalez said. "I just tried to be nice and easy at the plate and try to get a good pitch and put the barrel on it. A lot of good things happen when I take that approach at the plate."
Gonzalez had his career night in front of a Venezuelan national team of 16-18-year-olds. Gonzalez arranged a bus to bring them from a tournament in nearby South Carolina to Atlanta, where they met Gonzalez, who once played for the same team, fellow Rockies Venezuelans Jhoulys Chacin, Yorvit Torrealba and Jonathan Herrera, as well as Dexter Fowler and Troy Tulowitzki.
Then Gonzalez put aside the pain in his finger, which he'll deal with for the rest of the season, and served as a dominant Rockies force. Gonzalez drove in two runs, including the tying run in the ninth.
Other than the loss, the drawback to the night was that he was caught stealing by Braves catcher Evan Gattis with a perfect throw in the seventh inning. The play ended the inning.
"I feel better," Gonzalez said before the game. "I gave it some rest and now I'm ready to go out there and play. It's tough sitting on the bench watching. I just have to get out of that hole."
Gonzalez originally sustained the injury swinging at a pitch from the D-backs' Patrick Corbin on July 7. The injury initially cost him some starts, but he stayed in the lineup until it flared again Thursday.
"I had a good conversation with him yesterday and he felt like he would be ready to go, so I put his name in the lineup before he got here and could tell me different," Rockies manager Walt Weiss said. "It's probably going to be an issue off and on. All it takes is one weird swing and that thing acts up again. But I have to play it like that.
"It's trying to find that balance. That's why we just check with him every day to see how he's feeling. He wants to be out there. We want to make a push in the second half and he's doing everything to be out there."
Thomas Harding is a reporter for MLB.com. Read his blog, Hardball in the Rockies, and follow him on Twitter @harding_at_mlb. This story was not subject to the approval of Major League Baseball or its clubs.