Braves win in 10th on Simmons' walk-off triple
Braves win in 10th on Simmons' walk-off triple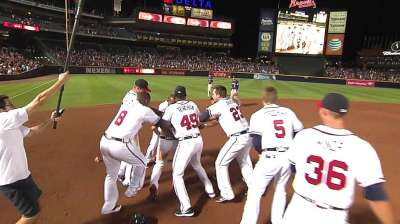 ATLANTA -- When Scott Downs was growing up in Kentucky idolizing Tom Glavine, the dreams he had of playing for the Braves did not include experiencing this kind of debut.
Less than 12 hours after learning he had been traded by the Angels, Downs found himself at Turner Field on Monday night, playing a key role in the eventual 9-8 victory the Braves claimed over the Rockies courtesy of Andrelton Simmons' 10th-inning walk-off triple.
"It was a wacky game," Braves manager Fredi Gonzalez said. "I made that comment in the dugout today. I said 'I thought we were playing at home today instead of Coors Field.' I'm glad we came out on the winning end of it."
The struggles Brandon Beachy experienced in his first big league start since undergoing Tommy John elbow reconstruction surgery last year simply set the stage for one of the craziest wins the Braves have recorded in recent history.
On the way to notching their Major League-best 32nd comeback victory, the Braves overcame a five-run, third-inning deficit, a one-run fifth-inning deficit and a blown save by Jordan Walden while handling the closer's role, since Craig Kimbrel had pitched each of the previous three days.
Downs arrived at the stadium just before the start of the game and introduced himself to many of his new teammates when he entered with the game tied and the bases loaded with two outs in the ninth. He escaped that jam when he snared the first-pitch liner that Todd Helton drilled back to the mound.
"I just kind of walked in and I was like 'Hey guys, nice to meet you,'" Downs said.
After stranding a runner at third in the bottom of the 10th, Downs was credited with the win that was secured when Simmons once again showed his flair for the dramatic by drilling his decisive triple off Edgmer Escalona. The drive to the left-center field gap scored Dan Uggla, who raced to the plate from first base after drawing a leadoff walk.
"I like the big moments," Simmons said. "Everybody likes the big moments. I feel like I had opportunities before this season, and I'm definitely making the most of them lately and hope to continue that."
This has been an incredible homestand for Simmons, who delivered the game-winning two-out single in the eighth inning of Saturday's win over the Cardinals. His go-ahead RBI single in the six-run third inning of Monday's series opener against the Rockies provided him three hits in his past three at-bats with two outs and a runner in scoring position. He had been 3-for-45 in these situations before this stretch.
"[Simmons] likes that stage," Gonzalez said. "He doesn't panic, and I think he's going to be one of those guys, the more he matures, the more he grows, the better he's going to be in those situations."
Simmons' late-inning heroics came after Walden was unable to maintain the one-run advantage the Braves had gained when Joey Terdoslavich capped a two-run fifth inning with an RBI single off Rockies starter Jorge De La Rosa, who was unable to secure the 5-0 third-inning advantage his teammates produced against Beachy.
Walden issued a one-out walk to Dexter Fowler, then surrendered consecutive singles to DJ LeMahieu and Carlos Gonzalez, whose game-tying single allowed him to match a career-best five-hit performance.
Downs stopped the bleeding in the ninth when he retired Helton, then further endeared himself to his new club when he kept the Rockies scoreless in the top of the 10th. This is what Braves general manager Frank Wren envisioned when he acquired the 37-year-old reliever to provide quality late-inning depth to his bullpen.
"Scott Downs came in and boy, he made a really big impact on our club, coming in to face Todd Helton, one of the premier left-handed hitters in the league," Gonzalez said. "To get him out and then go out the next inning and get out of the jam and get the win also, that was an impressive outing for Scott."
The same could not be said of Beachy, who displayed an inconsistent breaking ball and showed some expected signs of rust as he allowed seven earned runs and eight hits in 3 2/3 innings. His troubles began immediately as Fowler opened the game with a double and scored on Gonzalez's one-out single.
Wilin Rosario added to Colorado's early advantage with an opposite-field homer in the second inning and Beachy struggled to get through a three-run third that was highlighted by Michael Cuddyer's two-run triple.
The Braves claimed a one-run lead with a six-run third that was aided by third baseman Nolan Arenado's inability to field Evan Gattis' routine grounder that could have resulted in an inning-ending double play. But Beachy allowed Colorado to reclaim the lead with a two-run fourth that began with Arenado's solo shot to left field.
"It's a lot better feeling standing here talking to you now, knowing that we got a win and did it in dramatic fashion," Beachy said. "That's a lot of fun. It would be a lot more sour had we not gotten those runs back. At the same time, I look at it like when this offense puts up eight or nine runs in nine innings, there should be no doubt."
While Simmons delivered the knockout blow, David Carpenter played a key role as he tossed 2 1/3 scoreless innings after replacing Beachy in the fourth.
"It was kind of like one of those heavyweight fights," Carpenter said. "Blows got thrown early and it was just about who was going to be standing in the end."
Mark Bowman is a reporter for MLB.com. This story was not subject to the approval of Major League Baseball or its clubs.