CarGo gets five hits, but Rox fall in 10th
CarGo gets five hits, but Rox fall in 10th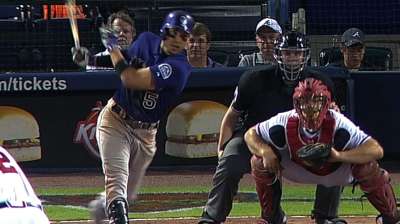 ATLANTA -- The Rockies aren't necessarily out of time, but it's not the best week to continue to be out of sync.
After seeing the offense struggle for much of their last homestand, the Rockies slugged on Monday night. But starter Jorge De La Rosa had his worst outing of the season, and one of the best nights of Carlos Gonzalez's career went to waste in a 9-8, 10-inning loss to the Braves at Turner Field in front of 31,218.
The night, which ended on Andrelton Simmons' 10th-inning triple off Edgmer Escalona (1-4), who walked leadoff man Dan Uggla, left the Rockies a season-high 6 1/2 games behind the National League West-leading Dodgers. The Rockies at one point had a five-run lead, and Gonzalez went 5-for-5 to match his single-game high for hits, plus stole two bases. Yet the result was a loss.
With the non-waiver Trade Deadline approaching on Wednesday, the Rockies are on the edge of being in position to add or subtract. Despite Monday night's struggles, De La Rosa (10-6), whose contract has an $11 million club option for 2014, could bring the most in a seller's trade scenario.
But the Rockies are holding onto hope that things could change in a hurry.
"This game is hard enough without worrying about all that stuff, feeling like the season is over," Gonzalez said. "We've still got a lot of games in front of us. Everybody goes through ups and downs. Just play a little better and see what happens at the end. It's a tough league, a tough game, but things change.
"I hope that it's not too late when we do it, but I know at some point something good is going to happen."
Some good came out of Monday.
For much of a 5-5 homestand against the Cubs, Marlins and Brewers -- teams already focused on some future year -- the offense went quiet.
But Gonzalez, who had missed the last three games with an aggravated right middle finger injury originally sustained on July 7, sparked an offensive performance that featured Wilin Rosario's 15th homer of the year and Nolan Arenado's eighth. The Rockies, who had three hits from Rosario and two from DJ LeMahieu and Arenado, out-hit the Braves, 15-12.
"It was a good offensive night," Rockies manager Walt Weiss said. "It's a tough place to win, a tough place to put up runs. We just weren't able to put that game away."
It was not the night for De La Rosa's wildness to bite him. The five-run lead disappeared in the Braves' six-run, five-hit third. The inning was aided by a one-out error by third baseman Arenado, who rushed toward third to attempt a force play and allowed Evan Gattis' bases-loaded grounder to tick the heel of his glove.
Arenado said he should have charged the ball harder and thrown home, but he thought Gattis hit it harder than he actually did.
"If I don't make that error, we get out of that inning with a couple-run lead there and I think we win that game," Arenado said. "De La Rosa battled and he might not be happy with how he did. But that was a big error."
The Rockies gave De La Rosa a 7-6 lead in the top of the fourth, with Arenado's homer a key part of it. The seven runs came off Brandon Beachy, who was making his first start of the season after Tommy John surgery last year on his right elbow.
But De La Rosa let that lead evaporate in the fifth, when Chris Johnson singled and scored on Uggla's double. Joey Terdoslavich's single made it 8-7.
De La Rosa's location wasn't low in the zone as usual. He has been bothered by a left thumb bruise for a month, but he insisted it wasn't an issue.
"It was one of those games," De La Rosa said. "I tried to compete all game, but I didn't have good results.
"They scored a lot of runs for me, but I didn't do my job."
The Rockies tied it at 8-8 in the top of the ninth on Gonzalez's RBI single, which was his fifth hit, matching a career high set May 14 against the Cubs. But Braves left-hander Scott Downs, acquired earlier Monday from the Angels, replaced Jordan Walden with bases loaded and two outs and snatched Todd Helton's line drive for force extra innings.
Downs, who earned the victory, also fanned Dexter Fowler with a runner at third to end the 10th, and set up Simmons to win it.
"I like the big moments," Simmons said. "Everybody likes the big moments. I feel like I had opportunities before this season, and I'm definitely making the most of them lately and hope to continue that."
Thomas Harding is a reporter for MLB.com. Read his blog, Hardball in the Rockies, and follow him on Twitter @harding_at_mlb. This story was not subject to the approval of Major League Baseball or its clubs.