Red-hot Myers not changing a thing, including hairstyle
Red-hot Myers not changing a thing, including hairstyle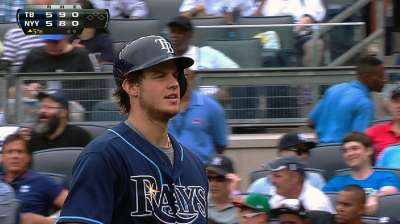 BOSTON -- Rays rookie right fielder Wil Myers hasn't cut -- or for that matter combed -- his hair since the beginning of the season, but with the way he's been hitting lately, he has no plans to change anything.
"It's got the look of being combed with the leg of a chair," manager Joe Maddon said of Myers' hair style.
As long as Myers keeps playing like he did Sunday -- he hit two homers and had four RBIs in a loss against the Yankees -- Maddon couldn't care less.
Myers has hit in nine straight games and has collected more than one hit in eight of those contests. Not coincidentally, the red-hot Rays are 7-2 in that stretch.
But Tampa Bay has been on a tear since Myers made his highly anticipated debut June 18. The Rays are 26-10 and have closed within a half-game of the first-place Red Sox in the American League East.
There are plenty of reasons for the Rays' surge, but Myers' strong start has been one of them. He was batting .328 with seven homers and 26 RBIs entering Monday.
With a number of games under his belt, Myers feels like he's settling into a routine at the Major League level.
"It doesn't feel like my debut anymore," he said. "It just feels like I'm really playing baseball again.
"I feel pretty good right now. Just seeing the ball and just getting some good pitches to hit. Just not chasing balls away and staying confident in my approach."
Added Maddon, "He thinks he belongs in the big leagues."
Myers has for the most part lived up to the lofty expectations that followed him to the Major Leagues. He's always been lauded for his bat, but Maddon said what surprised him was the other facets of his game.
"He's probably exceeded expectations for me from what I've seen defensively and on the bases," Maddon said, "but offensively, I had heard he was going to be pretty good."
Michael Periatt is an associate reporter for MLB.com. Follow him on Twitter @Michael Periatt. This story was not subject to the approval of Major League Baseball or its clubs.