Mets fight back to halt woes against Marlins
Mets fight back to halt woes against Marlins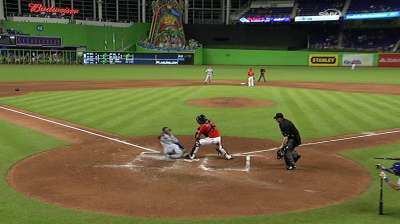 MIAMI -- The Marlins arrived to work Monday evening on a 99-loss pace, which might have looked worse if not for one important detail: they had owned the Mets over their first 11 meetings, winning eight of them.
Had that history been reversed, the Mets would have entered the night a .500 team in second place, well within striking distance of the division-leading Braves. And that frustrated them. As manager Terry Collins said, "They know exactly what's going on. They know who they can hit. They know who they can't hit. They know who they play well against. They know who they don't play well against."
So it was a vengeful group of Mets that came from behind to steal a 6-5 win from the Marlins, taking the lead for good on Ike Davis' RBI double in the seventh. Continued losing was a thought they did not wish to stomach.
Yet it was a real possibility late in the game, after Miami had taken advantage of some shoddy Mets fielding to end Jeremy Hefner's night. The turning point came when Marlins manager Mike Redmond elected to remove his own starting pitcher, Jacob Turner, from the game with a two-run lead and one out in the seventh. Turner was at 94 pitches.
Responding by rapping out consecutive hits off reliever Mike Dunn, the Mets tied the game on Marlon Byrd's RBI single against A.J. Ramos. A batter later, Davis pulled his go-ahead double down the right-field line, allowing Byrd to race home fractions of a second before the relay.
"It's big, especially here," Davis said. "We've struggled winning here, and it feels like every game we play here comes down to the last hitter."
The Mets had accosted Turner earlier with a four-hit, three-run attack in the third inning, highlighted by Daniel Murphy's two-run single and David Wright's RBI double. But they could not score again off one of the marquee members of Miami's vaunted young pitching staff, despite putting multiple runners on base in the fourth and fifth innings.
"I thought Jacob Turner really had to grind from the start," Redmond said, explaining his mid-inning hook in the seventh. "[It] wasn't probably his best, but at the same time, too, you learn a lot about yourself when maybe you don't have your best stuff and you're still able to pitch deep in the game. You battle. I thought he battled."
As a result, more Miami misery seemed inevitable for Collins, with his starting pitcher playing a central role. One of the few Mets who had taken advantage of Miami's ineptitude in the past was Hefner, who entered the night with a 1.93 ERA against the Marlins and a 4.49 mark against everybody else. Yet those numbers also included a healthy dose of rotten luck; Hefner lost one start in Miami despite taking a three-hitter into the ninth and dropped another despite allowing only one run in six innings.
That trend continued in the fourth inning Monday, moments after Hefner gave up his first run on Ed Lucas' one-out RBI triple. With the bases loaded, Hefner popped up Jeff Mathis and induced a ground ball from Turner to seemingly neutralize the threat. But Mets shortstop Omar Quintanilla booted the routine play, allowing two runs to score.
Two innings later, Eric Young Jr.'s bobble in left field allowed two runners to reach scoring position with one out, priming Mathis for a go-ahead two-run single.
"It was a grind," Hefner said. "And when I have games like that, they're much easier to take after a win."
Particularly considering the opponent. When Byrd crossed home plate with the go-ahead run, he pumped his fist as the visiting dugout erupted in cheers. Drop an unknowing fan into the ballpark, and the scene may have resembled the heat of a pennant race -- not the skirmish between fourth- and fifth-place teams in late July.
Byrd explained that "it seems like every year there's just one team that has your number," and that in 2013, the Marlins are that team. So this night was about more than mere bragging rights for the Mets, who were bent on changing the narrative for once.
"It was an easy game to just give up there at the end, and guys battled back and we were able to come out on top," said closer Bobby Parnell, who put two men on base before retiring Giancarlo Stanton to end things in the ninth. "It was a nice win for the team."
Anthony DiComo is a reporter for MLB.com. Follow him on Twitter @AnthonyDicomo. This story was not subject to the approval of Major League Baseball or its clubs.