Aybar, Kendrick are potential trade options
Aybar, Kendrick are potential trade options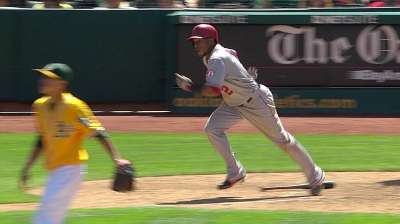 ARLINGTON -- Erick Aybar was sitting on the end of a couch in the visiting clubhouse at Rangers Ballpark with MLB Network on in the background when his name popped up on Monday, linked to his up-the-middle partner, Howie Kendrick, as a piece the Angels are reportedly dangling in pursuit of starting pitching before the non-waiver Trade Deadline.
It's that time of year.
"That's up to [the front office]," Aybar said in Spanish. "I can't control that. They're the ones that know."
Aybar (owed $25.5 million from 2014-16) and Kendrick ($18.85 million from 2014-15) each signed relatively team-friendly extensions last year and have been solid on both sides of the field. Aybar, a slap hitter with good speed, has posted a .283/.310/.389 slash line in 81 games. Kendrick, a power hitter who drives the ball well to the opposite field, entered Monday with a .299/.339/.446 line in 100 games.
A glaring issue in trading either one of them, though, is that the Angels don't have anyone in their system capable of manning the middle infield on an everyday basis. Jean Segura would've been that guy, but he was dealt to the Brewers as part of the Zack Greinke trade last July.
If one of them is dealt before Wednesday's 1 p.m. PT non-waiver Trade Deadline, Aybar figures to be the most likely of the two, simply because he doesn't have any no-trade protection. Kendrick can block deals to 12 teams in 2013.
"This is all part of the business and we can't control that," said Aybar, who, like Kendrick, is homegrown. "I'm going to keep playing my baseball. If it happens, it happens. If God wanted, it happened. If not, keep playing my game as hard as I can."
Alden Gonzalez is a reporter for MLB.com. Read his blog, Gonzo and "The Show", and follow him on Twitter @Alden_Gonzalez. This story was not subject to the approval of Major League Baseball or its clubs.