Rays escape, back in first as Price again bests Red Sox
Rays escape, back in first as Price again bests Red Sox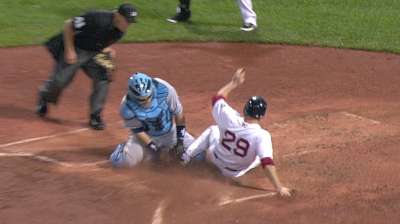 BOSTON -- No matter how good a team is playing, it takes a little bit of luck to go on the type of streak the Rays have been on.
With only a half-game separating the Red Sox and Rays and a playoff atmosphere surrounding them at Fenway Park on Monday night, good fortune again found Tampa Bay in the eighth inning of its 2-1 victory.
With runners on second and third and one out in the pivotal inning, Boston third baseman Brandon Snyder lifted a fly ball to shallow left field off Joel Peralta.
The moment left fielder Sam Fuld caught it, Daniel Nava tagged from third and broke for home setting up what was an inevitable bang-bang play at the plate.
Fuld's throw was on the money and catcher Jose Molina did what manager Joe Maddon called a "textbook" job of blocking the plate, but it appeared Nava's foot caught the plate before Molina applied the tag.
No matter.
Home-plate umpire Jerry Meals called Nava out and the Rays escaped the inning unscathed.
"Daniel Nava clearly was safe," said Red Sox manager John Farrell, who was ejected for arguing the call. "It's unfortunate. We should still be playing right now."
After seeing the replay, Meals agreed.
"What I saw was: Molina blocked the plate and Nava's foot lifted," he said. "But in the replays, you could clearly see Nava's foot got under for a split second and then lifted, so I was wrong on my decision. From the angle I had, I did not see his foot get under Molina's shin guard."
But the Rays, who finished their road trip with an 8-2 mark, will gladly take it.
The controversial call at the plate will get most of the attention, but if you ask Maddon, the Rays had a few breaks go against them as well.
David Price was dominant through the first seven innings and having thrown only 82 pitches, was all set to start the eighth.
But Mother Nature intervened.
A heavy rain started falling right before the eighth and the game was delayed for 39 minutes.
Despite the lengthy stoppage, Price convinced a hesitant Maddon to let him retake the mound.
The lefty quickly fell behind 3-0 to Jonny Gomes and even though he responded with a strikeout, Maddon knew he made the wrong decision.
"He came back and got the strikeout. I understand that, but I didn't like it and that was my mistake to do that in the first place," Maddon said. "I watched him throw the first three or four pitches and I knew it was the wrong thing. I mean, I'll take full responsibility for that. He should not have gone back out there."
Maddon pulled Price in favor Peralta, setting up the chain of events leading to the controversial play at the plate.
"It's Joe just making his decisions," Price said. "He's won Manager of the Year however many years he's won it and he makes decisions like that. Thankfully we came out on top."
Just five days earlier, Price pitched a complete game and gave up just one run against the Red Sox. He appeared to be just as locked in Monday before the rain.
He again pounded the strike zone and forced early swings against a Red Sox lineup that is known for its patient approach at the plate. Price has been nothing short of dominant since returning from the disabled list in early July, totaling a 1.68 ERA in seven starts, including three complete games.
"I've proved to them I can go out there and pound the strike zone," Price said. "Once I've done that no one wants to hit 1-2, 0-2."
His only blemish was a bit of bad fortune as well. It came in the sixth when Brandon Snyder hit what looked to be a harmless fly ball down the right-field line. The ball probably would have hooked foul in any other ballpark, but it clanked off Pesky's Pole, which stands just 302 feet away from home plate, for a home run.
"John Pesky made himself present tonight," Maddon said. "That really was a bad moment tonight, the fact that he showed up tonight."
The Rays have won 18 of their last 21 games, continuing their tear as the hottest team in the Major Leagues.
Monday's game was a makeup of the contest that was postponed due to rain Thursday. Including the three games in the series before Thursday, the Rays took three of four from the Red Sox and don't return to Fenway again during the regular season.
"It's been a nice little run we've been on and this is the kind of game that can even take you to another level hopefully," said Maddon.
Tampa Bay's offense only mustered two runs off Red Sox starter Felix Doubront, but with Price dealing, that would be all they needed.
Sean Rodriguez doubled with runners on the corners in the fourth to score Yunel Escobar. One inning later, Wil Myers slapped a ground ball to shortstop Stephen Drew, scoring Evan Longoria from third.
Backed with the two-run advantage, Price struck out the side in the fifth. It was part of a streak of 13 consecutive batters he retired between the second and sixth innings. He struck out eight and has not walked a batter in the 48 1/3 innings since his return.
With the 10-game road trip complete, the Rays return home for the first time since the All-Star break Tuesday, opening a two-game series against the D-backs.
Michael Periatt is an associate reporter for MLB.com. Follow him on Twitter @Michael Periatt. This story was not subject to the approval of Major League Baseball or its clubs.