Red Sox lose their cool, fall to Rays on close call
Red Sox lose their cool, fall to Rays on close call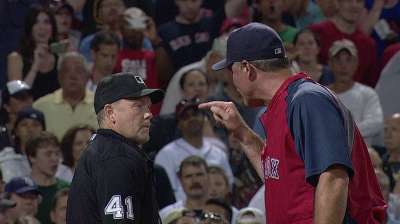 BOSTON -- Sure, the Red Sox were frustrated at being thoroughly handcuffed by David Price for the second time in six days. But that isn't what made them reach their boiling point en route to a gut-wrenching 2-1 loss to the Rays on Monday night at Fenway Park.
In a maddening sequence in the bottom of the eighth, with Price finally out of the game, Brandon Snyder hit a fly ball to left-center field that made nearly everyone in the ballpark think "game-tying sacrifice fly."
As Daniel Nava slid in, his foot reaching home plate before Jose Molina could slap down the tag, home-plate umpire Jerry Meals reached his surprising conclusion: The one that he'd admit was a mistake after watching the replay.
Nava was ruled out at the plate. He was incensed. So, too, was Red Sox manager John Farrell.
The fact that Meals conceded it was the wrong call after the game probably didn't do much to cheer up a Boston team that figures to be in a dogfight with the Rays for the American League East title for the rest of the season.
"What I saw was: Molina blocked the plate and Nava's foot lifted," Meals said to a pool reporter. "But in the replays, you could clearly see Nava's foot got under for a split second and then lifted, so I was wrong on my decision. From the angle I had, I did not see his foot get under Molina's shin guard."
And that seemed to be what had Farrell the most upset -- that Meals wasn't in good position to make the call.
"Well, it ended up in an ejection," said Farrell. "It was a missed call. Terrible call. Clearly, the angle of Jerry Meals behind the plate when the throw came in, he did not see the view. Daniel Nava clearly was safe. It's unfortunate. We should still be playing right now."
Instead, the Red Sox, after a ninth-inning rally came up short, fell back into second place, as the surging Rays leapfrogged them again by a half-game.
"There was no doubt," said Nava. "I knew I was safe. I wouldn't try to sell it. On replays, you'd see I was safe. I knew I was safe. Unfortunately, that was the situation. Obviously, that's what he called. At the same time, I probably should've been there the at-bat before."
What Nava was referring to was the subpar read he got on the play before. After Ryan Lavarnway clubbed a double off the scoreboard in left, Nava was summoned as a pinch-runner. Stephen Drew belted one over the head of Rays right fielder Wil Myers, just in front of the bullpen wall in right.
Just about always, a player would score from second on that type of double. But Nava hesitated ever so slightly, thinking Myers might make an over-the-shoulder catch.
"It's obviously frustrating," said Nava. "I should've scored. It's my fault. I should've scored. Bad read. But, yeah, it happens."
So the Rays, who had to come back to Fenway for one game thanks to the postponement on Thursday, left Boston perhaps feeling like they stole one.
The AL East rivals won't meet again until Sept. 10, when they play three games at Tropicana Field.
"I'm a total advocate of instant replay," said Rays manager Joe Maddon. "And there's a perfect example of when it could have played a possible difference in tonight's game."
When this game started, the Red Sox felt like they were facing a different kind of instant replay. One that had Price throwing one unhittable strike after another.
Just five days earlier, the lefty had fired a complete-game masterpiece against the Red Sox.
Here he was again, taking a one-hit shutout into the sixth.
But Snyder, making a spot start at third base, hit one down the line in right for a solo shot that clanged off Pesky's Pole with one out in the sixth. That sliced the Rays' lead to 2-1.
"Obviously right when I hit it, I was kind of hoping it would stay fair as long as it did," Snyder said. "Just trying to work an at-bat. He gave me a pitch to put a pretty decent swing on. It's the shortest homer I ever hit in my life. I'm sure it's the shortest one he ever gave up."
Price had thrown just 82 pitches through seven and the Red Sox hoped they had caught a break when a 39-minute rain delay started before the bottom of the eighth.
Tampa Bay's ace came back after the delay but faced just one batter, retiring Jonny Gomes.
"I watched him throw the first three or four pitches and I knew it was the wrong thing," Maddon said. "I mean, I'll take full responsibility for that. He should not have gone back out there."
After the zaniness of the eighth, the Red Sox still had a good shot to come back in the ninth against Rays closer Fernando Rodney.
Jacoby Ellsbury led off with a single. With one out, he stole second. Dustin Pedroia grounded out for the second out. Predictably, the Rays walked David Ortiz intentionally, putting the game in Mike Napoli's hands.
The runners moved up to second and third on a wild pitch.
After the 99-mph wild pitch had the Sox thinking comeback, Rodney came back with a changeup that Napoli struck out on, ending the game.
"This is not something that fazes us," said Red Sox right fielder Shane Victorino. "It's just, yeah, it's a little disappointing. But beyond that, we can't sit there and dwell on the moment. Tomorrow's another day."
And there's probably no conceivable way it will be as frustrating on so many levels.
Ian Browne is a reporter for MLB.com. Read his blog, Brownie Points, and follow him on Twitter @IanMBrowne. This story was not subject to the approval of Major League Baseball or its clubs.