Rangers snap scoreless streak, walk off on Soto's blast
Rangers snap scoreless streak, walk off on Soto's blast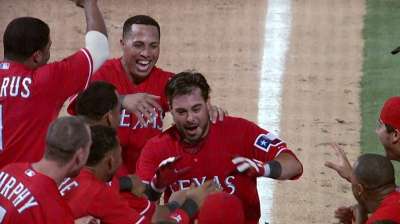 ARLINGTON -- In the sixth inning Monday night, the Rangers finally ended the agony of going 26 straight innings without scoring a run. Three innings later, they experienced the ecstasy of their first walk-off home run of the season and an unbridled team celebration at home plate.
Geovany Soto was the center of attention after his two-out home run off of Angels closer Ernesto Frieri gave the Rangers a 4-3 victory at the Ballpark in Arlington. The Rangers trailed, 3-2, going into the ninth before A.J. Pierzynski tied the game with a leadoff homer.
"Awesome," shortstop Elvis Andrus said. "Walk-off home run, first of the year, oh yeah for sure we needed that. It was a great game. Those kind of games can wake you up. Hopefully that will be the start of something.
"We battled every inning. To pull that off is huge."
In doing so, the Rangers snapped a four-game losing streak. Their only other walk-off victory this season came on a single by Adrian Beltre against the Red Sox on May 5.
"To win a game like that, after what we've been through the past few games, it was fun," Pierzynski said. "It has been so frustrating offensively for so long, we were really happy to have a game like that. It was something we needed and it was fun. It was just fun to be out there tonight."
The victory also came one day after manager Ron Washington's 40-minute postgame meeting in Cleveland.
"We went out there with intent tonight," Washington said. "Our intent was to play our type of game. We kept grinding and grinding and got it done. I was very pleased with the way they came out to play with intent tonight. They deserve a lot of credit."
The Rangers trailed, 3-0, after five innings before coming back against Angels starter Jered Weaver and the bullpen. The comeback saved Matt Garza from getting his first loss since June 15. All three Angels runs against him came in the fifth on a home run by J.B. Shuck and a two-run single by Josh Hamilton.
"For us right now, it's awesome," Garza said after his second start for the Rangers. "We needed that type of win. Hopefully this carries over and we start building a little snowball and turn it into something big."
Weaver had a one-hit shutout going into the sixth before the Rangers finally broke through. Leonys Martin reached on a one-out bunt base hit and went to second when Andrus was thrown out trying to bunt his way on base. Ian Kinsler followed with a single to center to drive home Martin.
Garza left after seven innings with the Rangers trailing, 3-1. The Angels' eighth almost derailed the Rangers' comeback, but Neal Cotts did a terrific job pitching out of trouble.
After leadoff singles by Mike Trout and Hamilton put runners on the corners, Cotts stuck out Mark Trumbo and Howie Kendrick. Alberto Callaspo walked to load the bases, but Cotts got Hank Conger to ground out, keeping it a two-run game.
"What an inning," Washington said. "Cotts' back was against the wall and he got out of it. This certainly was a great team win."
The Rangers added one more run in the eighth off of reliever Dane De La Rosa. Andrus singled with one out, stole second and kept going to third when Conger's throw ended up in center field. Andrus scored on Kinsler's sacrifice fly.
That made it 3-2, and Jason Frasor kept it there by setting down the side in order in the ninth. In doing so, he put himself in position to earn his first win of the season. The Rangers just needed a couple of runs.
Pierzynski led off the ninth by missing a first-pitch fastball and then taking one for a ball. With the count 1-1, Frieri threw a fastball down the middle and Pierzynski took another big swing-and-miss. He reacted by storming out of the batter's box and biting his bat in frustration.
"I wanted to say a lot of bad words," Pierzynski said. "Elvis told me from now on, I should chew on my bat every at-bat."
Maybe that did the trick. Frieri threw another fastball, this one down and in, and Pierzynski hit it in the right-field seats to tie the game. It was his 11th home run of the season, and nine of them have either tied the game or put the Rangers ahead.
Nelson Cruz followed with a single to left, but David Murphy grounded into a double play. That brought up Soto, who took three straight fastballs for balls, another fastball for a strike and then fouled off a slider to run the count full. Frieri threw one more fastball and Soto hit it very high, straight down the left-field line. The ball disappeared just over the wall for the game-winner.
"It was supposed to be down and away and it was right down the middle," Frieri said. "Middle-in, up. I knew that he was going to look fastball in that count. But that's what happens. Every time that you miss location, you're going to get hurt. I'm No. 1 doing that. Every time that I miss, I get hurt really bad."
It was Soto's second career walk-off home run. He had one for the Cubs in 2011.
"I was just hoping it stayed fair," Soto said. "I was praying to God it stayed fair. When it stayed fair, I was the happiest guy on the field."
He had a couple dozen teammates who were right there with him.
T.R. Sullivan is a reporter for MLB.com. Read his blog, Postcards from Elysian Fields, and follow him on Twitter @Sullivan_Ranger. This story was not subject to the approval of Major League Baseball or its clubs.