Tribe not influenced by Tigers' Deadline move
Tribe not influenced by Tigers' Deadline move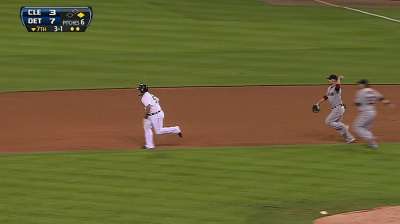 CLEVELAND -- As the last-place Chicago White Sox rolled into town, American League Central-leader Detroit made a trade on Monday to bolster its most glaring weakness.
At the moment, however, the Indians are more concerned about playing the White Sox than watching the Tigers, but Detroit's acquisition of right-handed reliever Jose Veras certainly did not go unnoticed in Cleveland. With the non-waiver Trade Deadline on Wednesday at 4 p.m. ET, manager Terry Francona was asked whether the Veras trade puts pressure on the Tribe to make a move.
"I don't think that has any bearing on what we're doing or how we'll do it," Francona said.
After managing in Boston from 2004-11, Francona got a firsthand look at divisional arms races, as the Red Sox and Yankees continually tried to one-up each other, on the field and in avenues of player acquisition.
"I think sometimes you can react to something," Francona said. "Sometimes, you're trying to keep up with the Joneses."
In this case, the Joneses and Tigers are one and the same. Like Detroit -- which entered Monday with a three-game lead over Cleveland in the AL Central -- the Indians would do well to upgrade their bullpen, and general manager Chris Antonetti has acknowledged that. Specifically, Antonetti touched on the difficulty his relievers have had in retiring left-handed hitters.
The Indians' lefty relievers had combined for a 6.54 ERA and 1.48 WHIP entering Monday.
"I just think that Chris has a real good grasp of who we are and where we're going, and how we're trying to get there," Francona said. "I don't think he'll ever lose sight of that, and I mean that in a good way."
Mark Emery is an associate reporter for MLB.com. This story was not subject to the approval of Major League Baseball or its clubs.