Sox rocked by Indians on walk-off home run
Sox rocked by Indians on walk-off home run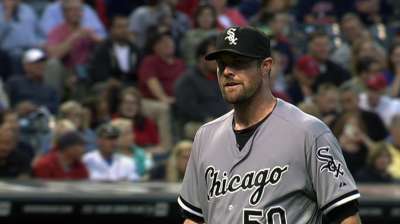 CLEVELAND -- The Monday night focus concerning the White Sox centered more on who was leaving the team and who might leave the team instead of another in a long line of tough losses that have made up the disappointing 2013 season.
This setback came in a 3-2 form against the Indians at Progressive Field, courtesy of Jason Giambi's walk-off homer in a pinch-hitting role against Ramon Troncoso (1-3). It was a familiar formula for the South Siders: good starting pitching, not much run support, poor defense and lose a close one late.
John Danks finished with a no-decision but deserved a better fate. The same could be said for a number of White Sox hurlers over the past four months.
"There were a couple of walks late, but we were atrocious on defense early," manager Robin Ventura said of his team's fourth straight loss and seventh in eight decisions. "It's one of those where you spot them runs."
When it was pointed out that atrocious was one of the stronger words he has used to describe his season-long porous defense, which picked up error No. 73 on Conor Gillaspie's first-inning throwing miscue, Ventura simply added that "it is what it is."
Aside from that late control issue spoken of by Ventura, Danks pretty much shut down the Indians over six-plus innings. The left-hander allowed just two hits, while striking out three and walking four.
Danks threw 55 of his 101 pitches for strikes and felt his raw stuff pushed through a quality start when his command was absent.
"These days happen where you're not able to throw the ball where you want to," Danks said. "I was up in the zone and able to get away with it. It's something I don't have an explanation for. Stuff was there, command was lacking and caused my pitch count to go up and that cost me a run."
"He added and subtracted. We got a little long. We had a lot of fly balls just sort of to the warning track," Indians manager Terry Francona said. "That's what he does. He adds a little bit; he takes a little bit off. He throws a little breaking ball, changeup. He's very successful at doing it."
Zach McAllister was every bit as good as Danks, yielding two runs on five hits over seven innings. The White Sox still were able to grab a 2-1 lead in the sixth against the right-hander, staging a two-out rally in the matter of four pitches.
Alex Rios doubled and scored on Adam Dunn's double to right, with Dunn then coming home on Paul Konerko's single up the middle. That slim advantage didn't last long, as Danks walked Michael Bourn and Nick Swisher to open the bottom half of the frame, and Jason Kipnis' bunt single loaded the bases with none out.
Cleveland managed just one run from the rally on Asdrubal Cabrera's hard-hit groundout to shortstop Alexei Ramirez, with Danks retiring Ryan Raburn on a grounder back to the mound and Carlos Santana on another grounder to Ramirez. The game stayed tied into the ninth, behind slick outfield defensive work from the Indians, before Giambi connected on a 1-1 slider.
"I wasn't trying to do too much. I just wanted to see it and kind of hit it," said Giambi, who is the oldest player in Major League history to hit a walk-off homer. "I got a pitch up in the strike zone and ended up catching up to it. I hit it pretty good."
"You have a couple of options there," Ventura said of the final at-bat. "You have him or [David] Purcey comes in and faces a couple of righties. He's been doing that for a while so it's one of those that he's over there for a reason."
At 40-63, the White Sox fell to 23 games under .500 for the first time since Sept. 11, 2007, when they were 61-84. Ventura's crew seemingly has a more likely chance of losing 100 than getting anywhere near .500.
Jake Peavy remained on schedule to pitch on Tuesday night for the White Sox and was eating with his teammates postgame in the clubhouse. A contingency plan is in place, with Andre Rienzo coming from Triple-A Charlotte to Cleveland to take Peavy's place in case he is moved or scratched from Tuesday with trade negotiations on-going into Wednesday's 3 p.m. CT non-waiver Deadline.
Jesse Crain joined Matt Thornton as the second veteran reliever traded prior to Monday's loss, and there could be more to come. Those sorts of moves are a function of a team playing as bad as the White Sox have over the last 55 games, where they are clear-cut sellers instead of buyers.
"It's not easy on any of us who expected to win and wanted to be a whole lot better than we are," Peavy said before Monday's contest.
"Yeah it's hard to watch," Danks said of teammates departing. "Jesse and I have become good buddies. Jake and I have a real good relationship. I'd love to keep him but I understand the business, that things have to happen. We'll see what happens. I haven't followed it real close. I'd like to keep him here and make a [future] run at it."
Scott Merkin is a reporter for MLB.com. Read his blog, Merk's Works, and follow him on Twitter @scottmerkin. This story was not subject to the approval of Major League Baseball or its clubs.