Westbrook, Cards have tough night vs. Pirates
Westbrook, Cards have tough night vs. Pirates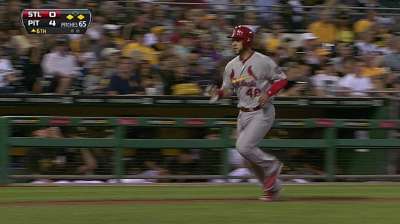 PITTSBURGH -- With the Cardinals looking for positive momentum, the team that has routinely given Jake Westbrook fits throughout his career is the same one he was asked to quiet on Monday. That desire would not be met with result.
Ambushed by the Pirates' offense, Westbrook served up four runs on his first 10 pitches. From there the Pirates sailed, taking the first game of the five-game series, 9-2, behind starter Francisco Liriano and in front of 32,084 at PNC Park.
The outcome leaves the two clubs tied in the win column and the Cardinals with a half-game edge in the race for the National League Central. The Cardinals have now lost four in a row for the first time this season.
Yet they insist they're not concerned about any of that.
"You have to understand that we, as players, are very closed- and small-minded about big-picture stuff," outfielder Matt Holliday said. "I think we look at things a lot different than fans and media. These are important games, obviously, but we have to be very different in our approach. We can't be like, 'Oh gosh, we're down to a half-game and we have four more games against the Pirates and then we play the Reds.' We can't go down those roads. We're just going to try to come back and win the game tomorrow. We can't drag one at-bat into the next. We can't drag one play on the field into the next. You have to play in a very tight window how you look at things."
The players take that cue from their manager.
"Even the whole, 'Let's win the series' thing, I think that's too big of a picture," Mike Matheny said. "We focus it down to playing the games one at a time."
The Cardinals' collective offensive funk has, perhaps not coincidentally, arrived at the same point where their schedule turned tougher. Facing the first-place Braves and creeping Pirates, the Cardinals have combined for five runs and 21 hits in five games.
Liriano, one of the season's biggest pitching surprises, became the latest starter to stymie the Cardinals, allowing one run in seven innings.
"I've given a lot of credit to the pitching lately, and frankly, I'm just tired of doing that," Matheny said. "I'll put our offense up against any pitcher out there. We give credit, but not to the point where we start to diminish what we believe in with our offense."
The Cardinals didn't put a runner on until the fourth, and two chances with runners in scoring position that inning closed with consecutive strikeouts. One of those was to Allen Craig, now hitless in his last 18 at-bats.
"The pitchers we've been facing have been tough for us," catcher Yadier Molina said, "but we have to find a way to get back on track, take good at-bats. We have no doubt what we can do. It's just a matter of time before we get on track. We'll be OK."
The Pirates, who have been chasing the Cardinals since early July, wasted no time letting the Cardinals know that they intend to be serious contenders. Jose Tabata drew a walk to lead off the first, and Neil Walker took a pitch off his knee to add traffic to the basepaths. Andrew McCutchen drove Tabata home with a single.
A first-pitch, flat sinker to Pedro Alvarez then landed in the right-field seats, giving the Pirates a four-run lead and Alvarez his 27th homer of the year. He is now 13-for-23 against Westbrook.
"It's just such a bad pitch to a hitter who has had so much success against me," said Westbrook. "That's the frustrating part. That's a guy I can't make a mistake to, and I did. That's definitely what hurt us and definitely one of -- if not the -- reason we lost the game tonight."
It was the second time this season that Westbrook had been tagged for four first-inning runs at PNC Park. He was just fortunate that the previous instance had been wiped off the stat sheet with a rainout.
Westbrook went on to labor for the entirety of his five-inning start, and his inability to go deeper forced the Cardinals to hand a heavy workload to relievers Marc Rzepczynski and Fernando Salas on the eve of a doubleheader. The sinkerballer induced only six groundball outs, evidence of a troubled sinker.
The Pirates worked Westbrook to a three-ball count eight times, three of those leading to walks. He fell behind 12 of the 25 batters he faced and hit two more on a first-pitch offering. He plunked three Pirates in all.
"We beat a good pitcher," Pirates manager Clint Hurdle said. "Very professional pitcher. It was a good night for us all across the board -- in the box, on the bases, in the field, off the mound."
Westbrook is now 0-6 with a 6.88 ERA in 10 career appearances (six starts) at PNC Park. At no other ballpark has he made more than five starts without recording a victory.
"I can't explain it," he said.
The Pirates made the night a laugher with five seventh-inning runs off Rzepczynski and Salas. With Salas having to throw 34 pitches in 1 1/3 innings, the Cardinals are considering making a roster move to bring up a fresh arm for Tuesday's doubleheader.
If so, Salas would seem the leading candidate to be sent down.
For the Cardinals to maintain their division lead, they'll have to, at worst, split Tuesday's doubleheader.
"You're going to have periods in the season when you don't play as well as you want to," Holliday said. "When everything is going great, it's easy. But the sign of a championship team is how you react and get through tough times. That's the character that it takes to win a World Series."
Jenifer Langosch is a reporter for MLB.com. Read her blog, By Gosh, It's Langosch, and follow her on Twitter @LangoschMLB. This story was not subject to the approval of Major League Baseball or its clubs.