Peavy isn't getting caught up in trade rumors
Peavy isn't getting caught up in trade rumors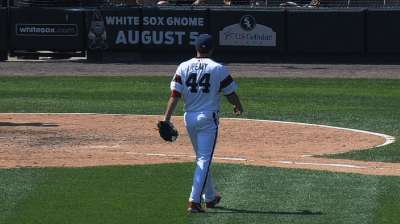 CHICAGO -- More bags than usual surrounded Jake Peavy on Sunday's getaway day, as the right-hander stood at his locker in the U.S. Cellular Field clubhouse well aware this could be his last game as a member of the White Sox on Chicago's South Side.
Peavy's name has been a popular one in rumors heading into Wednesday's non-waiver Trade Deadline, and the veteran right-hander has been linked to the A's, Cardinals, Orioles, Red Sox and Braves, among others.
Despite the chatter, half a dozen suitcases and clean locker, Peavy said he didn't give much thought to Sunday being his last game at U.S. Cellular Field.
"You treat it like any other day, you just come in, get your work done, get ready to pitch against Cleveland Tuesday night, and go out there at game time and pull for your teammates," said Peavy, who is scheduled to face the Indians on Tuesday.
Peavy and the White Sox have dealt with trade rumors for much of the last two weeks. He quipped that it's almost become normal getting asked about his future on a daily basis.
The 32-year-old right-hander has been here before, being dealt to Chicago from San Diego on Deadline day in 2009.
How he came to the White Sox -- and how he might leave -- make Peavy's nearly four-year stint in Chicago special. The White Sox acquired an injured Peavy who was a year and half removed from his 2007 National League Cy Young Award. He arrived injured after being an ace, was injured again, and then listened to fans clamor for the ace he once was.
Now, as another Trade Deadline approaches, Peavy is 8-4 with a 4.28 ERA and 1.263 WHIP and the most sought-after arm on the market.
"I think the biggest thing is to fight back through that, have a successful year as a team last year, come so close," Peavy said. "And this year, to pitch well for the most part and give the guys a chance to win. I've had a pleasurable time here in Chicago. I love this city, that's why I did not even go to free agency this winter with a little bit of a case to. If it was the last time, it's been all I ever imagined, but we'll see how that plays out."
Cash Kruth is a reporter for MLB.com. Follow him on Twitter at @cashkruth. This story was not subject to the approval of Major League Baseball or its clubs.