Cardinals drop third straight in Atlanta
Cardinals drop third straight in Atlanta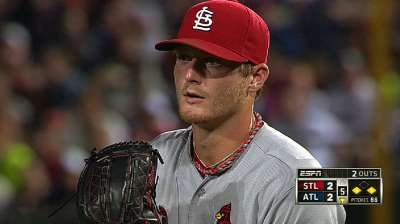 ATLANTA -- A potentially season-defining road trip through the cities of three contenders kicked off with a forgettable stop in Atlanta. Having arrived winners in five of six games since the All-Star break, the Cardinals departed having been swept for just the second time this season.
The road doesn't get any easier, either.
Following Sunday night's 5-2 loss to the Braves in front of 34,478 fans at Turner Field, the Cardinals jetted to Pittsburgh, where a five-game series awaits against their closest National League Central competitor. A three-game visit to Cincinnati follows. Add in the four games against the NL West-leading Dodgers to start the next homestand, and the Cardinals are in the midst of 15 straight games against clubs currently positioned for the playoffs.
In the toughest part of their schedule, this was not the first impression the Cardinals intended to leave.
"We have to flush this series and put it behind us and look forward to playing Pittsburgh," said Allen Craig, who went hitless in the series.
The Cardinals do retain baseball's best record and a 1 1/2-game advantage over the Pirates. However, the opportunity to extend that lead on a weekend when the Pirates and Reds both lost series went untapped.
"You never want to go into a place and get swept," said losing starter Shelby Miller. "We were battling the whole time. It's not like we had a terrible series. We just didn't come out on top in any of the games."
The Braves took this series behind their pitching.
By the time the Cardinals got to Kris Medlen -- the same starter they defeated in October's Wild Card game -- the offense had gone 20 innings without a run. Consecutive doubles by Pete Kozma and Miller pushed across a fifth-inning run off Medlen. Carlos Beltran's RBI single drove in another later in the inning.
The team would have only one hit the rest of the night.
"Really, it boils down to their fastball command the whole series, starting with [Friday starter Mike] Minor and even Medlen today," Matt Carpenter said. "They just did a good job keeping the ball out of the middle of the plate. Any time a pitching staff can do that, you put yourself in a good chance for success. You have to tip your cap. They executed their plan."
Medlen also stalled threats with timely double plays. David Freese grounded into two and Carpenter another. As a team, the Cardinals have hit into an NL-high 101 twin killings.
"The double plays don't help us," manager Mike Matheny said. "Those extra outs seem to add up when you're trying to get something going. But good pitching does that, and it's something we run into that now and again."
The Cardinals finished the series with 14 hits. They scored only three runs, the lowest total in any series this year.
Craig, who entered Sunday with a .375 batting average in July, finished 0-for-10 with five strikeouts. Matt Holliday went 1-for-7, and Carpenter had one hit in 12 at-bats. David Freese had one hit; Beltran had just two. The Cardinals went hitless in seven innings against the Atlanta bullpen.
"Obviously, we have confidence going in that we can control their lineup," Medlen said. "But knowing the kind of lineup that they have and how good of a team they have... I'm trying to avoid saying we were surprised that they only scored three runs this series, but I just think it's how good we are as a staff. And the bullpen did a great job when we've come out of the game too."
The Cardinals' bullpen could not keep pace. Sunday's game turned in the sixth when, a night after bailing Joe Kelly out of bases-loaded jam, Seth Maness could not provide a similar assist to Miller.
Chris Johnson's two-out single pushed Miller's pitch count to 112, a figure Matheny opted not to send him past. He called upon Maness to end the inning, but a bloop single by Saturday's hero, Andrelton Simmons, and a subsequent pinch-hit single by Joey Terdoslavich moved the Braves back in front, 3-2.
"The majority of the time, Maness is going to get us out of that one," Miller said. "Just got a little unlucky there."
Johnson was just the seventh of Maness' 33 inherited runners to score this season. The inning further compounded when Jason Heyward added an insurance run with his RBI single off reliever Kevin Siegrist.
The Braves had taken a 2-0 lead off Miller early. Beltran's misplay on a ball skipping down the right-field line turned a two-base hit into more for Johnson in the second. Simmons drove him home with a single up the middle.
Heyward's second home run of the series gave Atlanta another run an inning later.
Miller walked the next batter, but he settled in after a mound visit from pitching coach Derek Lilliquist. Miller retired the next eight in a row and got out of a fifth-inning jam when cleanup hitter Evan Gattis swung through a 96-mph fastball.
"He did a nice job of really competing," Matheny said. "He got into trouble and worked himself out. All in all, he threw the ball well. I saw some real nice secondary pitches, and you could tell that makes his fastball better."
Much of the Braves' offensive production in the series was concentrated in the bottom part of the order. Seven-hole hitter Johnson tallied seven hits and scored four runs. He also inched in front of Yadier Molina for the lead in the league batting title race. He's now batting .338 to Molina's .334.
Behind Johnson, Simmons drove in three and had four hits. The Braves also had four hits out of the nine-hole.
"I think some of the [series] early on against Washington and those series there were good," Braves manager Fredi Gonzalez said. "But as far as what I can recollect here in the last two weeks, this was a pretty darn good series."
Jenifer Langosch is a reporter for MLB.com. Read her blog, By Gosh, It's Langosch, and follow her on Twitter @LangoschMLB. This story was not subject to the approval of Major League Baseball or its clubs.