Braves finish sweep of best-record Cardinals
Braves finish sweep of best-record Cardinals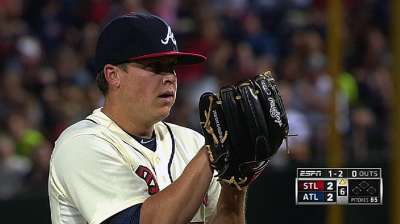 ATLANTA -- As the Braves spent the past three months playing at a mediocre clip, they gave critics reason to wonder if they are indeed one of baseball's top teams. But while dominating the team with the best record in the Major Leagues this weekend at Turner Field, they legitimized their place among the game's elite.
After watching his team frustrate St. Louis' potent offense on Friday and Saturday, Atlanta manager Fredi Gonzalez said he had not seen his club play two better consecutive games all season. By the time Sunday night's 5-2 sweep-clinching win over the Cardinals was complete, Gonzalez certainly had reason to believe this was the best series his club has played this year.
"I'm sure we've had some really good series," Gonzalez said. "I think some of the ones early on against Washington and those series there were good, but as far as what I can recollect here in the last two weeks, this was a pretty darn good series."
Following the lead of Mike Minor and Julio Teheran, Kris Medlen capped an impressive effort by Atlanta's rotation by providing his finest start in more than a month in the series finale. He was rewarded, courtesy of the consecutive two-out RBI singles Joey Terdoslavich and Jason Heyward provided in the decisive sixth inning.
Once Craig Kimbrel closed the door in the ninth inning with his 31st save, the Braves had no reason to think about the fact that they had entered this series having gone 44-43 dating back to April 19. Instead, they were simply hoping this weekend's dominance against the National League Central leaders provided a sign of things to come.
While notching this series sweep, the Braves pitchers limited the NL's highest-scoring offense to three runs. Much of the Cardinals' success can be attributed to the fact that they have hit an incredible .338 with runners in scoring position. This weekend, they were limited to two hits in the 10 at-bats in those situations.
"They pitched well and did a good job, had a good game plan," Cardinals second baseman Matt Carpenter said. "Really, it boils down to their fastball command the whole series, starting with Minor and even Medlen today. They just did a good job keeping the ball out of the middle of the plate. Any time a pitching staff can do that, you put yourself in a good chance for success."
Inconsistent fastball command has been an issue all season for Medlen, who entered Sunday having compiled an 8.59 ERA in his previous three starts. But while limiting the Cardinals to two runs and eight hits over six innings, the determined right-hander looked more like the pitcher who posted a 0.97 ERA in his final 12 starts of 2012.
Medlen's ability to consistently pound the strike zone with his fastball and keep hitters off balance with his changeup allowed him to cruise through the first four innings unscathed. He encountered trouble in the fifth inning when Pete Kozma and Shelby Miller notched consecutive one-out singles. Carlos Beltran added to the frustration with a game-tying two-out RBI single that fell between Evan Gattis and Andrelton Simmons in shallow left field.
After Medlen ended his outing with a scoreless sixth, the Braves chased Miller in the bottom half of the inning with a pair of two-out singles by Chris Johnson and Andrelton Simmons. Terdoslavich delivered a go-ahead single off Seth Maness, and Heyward then padded the advantage by greeting Kevin Siegrist with another single.
"Any time you do that, it just takes the breath out of teams," Heyward said. "You get two outs on a team and you feel like you're just one pitch away. Then they keep coming up with hits. We've been on the other side of that. It's just unfortunate when you're on defense and that happens."
Along with producing clutch hits and showing off the strength of their pitching staff, the Braves secured this sweep with some incredible defense. Simmons burned David Freese by turning two dazzling double plays and Freddie Freeman surprised himself when he reached over the dugout railing to snare Matt Holliday's pop fly.
Simmons delivered the game-winning eighth-inning single on Saturday and opened Sunday's scoring with a two-out, second-inning single that scored Johnson, who had advanced to third base after Beltran fumbled his two-out single in right field. The Braves' only other run before the sixth came via Heyward's home run to begin the bottom of the third.
"Sometimes it's a combination of good pitching, and sometimes it's catching a team just at the right time," Braves manager Fredi Gonzalez said. "But I think we pitched really, really well."
Mark Bowman is a reporter for MLB.com. This story was not subject to the approval of Major League Baseball or its clubs.