Cubs finish sweep thanks to homers, Wood
Cubs finish sweep thanks to homers, Wood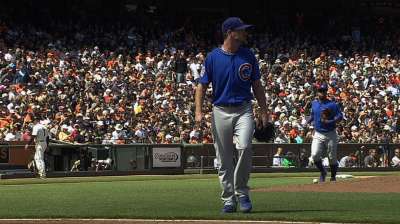 SAN FRANCISCO -- Travis Wood picked up another quality start and a quality at-bat.
Wood notched his 18th quality start and belted his third home run to lift the Cubs to a 2-1 victory Sunday over the Giants and complete a sweep of the defending World Series champs. Welington Castillo smacked a tiebreaking home run with two outs in the seventh, his third of the year, to give Chicago its first series sweep in San Francisco since Sept. 13-15, 1993.
The Cubs concluded a 10-game West Coast swing through Denver, Phoenix and San Francisco 6-4 and picked up their 26th road win, three more than their total last season. Last year, the Cubs went 1-18 on the road against the NL West.
"I can't remember ever as a player or anything having this kind of trip on the West Coast," Cubs manager Dale Sveum said. "To win six out of 10 on the West Coast, no matter how good a team you are, it's one of the harder things to do in baseball."
They did it without Matt Garza and Alfonso Soriano, both traded during the trip. On Sunday, Soriano had four hits, including a two-run homer and walk-off RBI single for the Yankees, which prompted loud cheers in the Cubs clubhouse. The high socks on Starlin Castro, Junior Lake and Luis Valbuena on Sunday? That's Soriano style.
"We said we wanted to do it for Sori," Castillo said of the socks switch.
Castillo was in the dining room when Soriano connected.
"We were so happy, we jumped out of our seats because we see our boy hit a homer," Castillo said. "We're pretty happy for him. He has to continue to do what he's always doing."
Wood was in the trainer's room and heard all the ruckus. The lefty was on the Cubs last year when they also overhauled the roster, dealing Ryan Dempster, Geovany Soto and others. This time, it's different.
"It's always a little different, especially when you lose a guy like Soriano," Wood said. "He was one of our hottest bats, probably the hottest bat at the time. He's the leader on the team and he's been here the longest. It was sad to see him go, but I think he had a pretty solid day today. We just have to pull together and string some wins."
Wood had to work for the "W." On Saturday, the Cubs escaped bases-loaded jams in the eighth and ninth innings to post a 1-0 win over the Giants. On Sunday, San Francisco loaded the bases with two outs in the third, and Wood avoided trouble when he got Hunter Pence to pop up and end the inning.
The pitchers ruled. Wood singled to lead off the third and then homered off Tim Lincecum with two outs in the fifth, his third of the year and the most by a Cubs pitcher since Carlos Zambrano hit four in 2009. It's the first time Lincecum has ever served up a home run to a pitcher.
"I swear to God, just before he hit that I was remembering [Yovani] Gallardo winning a game himself here with a home run off Randy Johnson, like the eighth inning or something," Sveum said. "Sure enough, [Wood] hits a home run. I think he's the best at handling good pitching, too. Gallardo was good, but Woody handles good pitching and lays off stuff and takes good swings."
Gallardo actually connected in the sixth off Johnson, hitting a three-run homer for the Brewers on April 8, 2009. Wood is not trying to be the next Zambrano.
"I'm always surprised," Wood said of his power. "I'm not up there trying to hit homers. I'm just trying to put good swings on it. I was able to get two hits today and fortunately one of them went over the fence. Unfortunately, I gave it up the next inning."
Lincecum got a little payback with two hits off Wood, both singles.
"I got a hit, and [Lincecum] came up the very next inning and got one, and I thought, 'OK, that's fair enough,'" Wood said of the exchange of singles.
The Giants loaded the bases with nobody out in the fifth, and Buster Posey hit into a bizarre double play, forcing the runners at third and at home. But Pablo Sandoval delivered an RBI double to tie the game. Castillo's home run was all Wood needed and ticked Lincecum off.
"The harder one to take was the second one," Lincecum said. "To give it back like that was tough."
All three games were decided by one run. Winning those close games in front of sellout crowds can only help, Sveum said.
"A lot of these young guys have to get a feeling for that in the big leagues, and the feeling of the last three games here, how close every out was and how every pitch here meant everything, and the situations [Saturday night]," Sveum said. "These guys, some of them anyway, that multiplies by 10 when you're in a pennant race, those kind of games. It's always a learning process."
Kevin Gregg wrapped things up with his 22nd save. He's one of 10 players on the current 25-man roster who was not with the Cubs on Opening Day. There's been a lot of turnover.
"I feel like a trade always makes a team closer," Wood said. "You see guys moving, and especially the guys we gave away, especially a leader like Soriano, and everybody pulls together and says we need to do everything we can to win ballgames."
On Saturday, Chris Rusin threw seven shutout innings. Nate Schierholtz is the new No. 4 hitter. Somehow, they've patched together a lineup that resulted in a winning road trip.
"We didn't score a ton of runs," Sveum said. "But that's what it takes to win, pitching and bullpens."
And that's what they got.
Carrie Muskat is a reporter for MLB.com. She writes a blog, Muskat Ramblings, and you can follow her on Twitter @CarrieMuskat. This story was not subject to the approval of Major League Baseball or its clubs.