Scuffling offense can't back Lincecum's effort
Scuffling offense can't back Lincecum's effort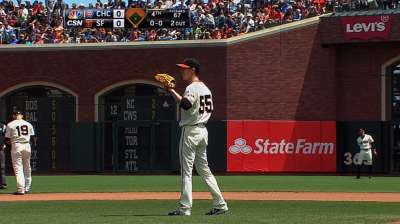 SAN FRANCISCO -- In the 10 games since the All-Star break, the Giants have left little room for debate as to whether this team will contend in 2013. On Sunday, the Cubs completed a sweep in San Francisco for the first time in 20 years as the Giants' bats flailed again in a 2-1 loss.
"In all my years, I haven't quite seen a team go through such a hard time getting runs in like we are right now," manager Bruce Bochy said. "It's a shame, because we've had great pitching.
"[Today] was the same. We just couldn't get a big hit."
In those 10 games to start the second half, the Giants have scored more than three runs just twice and finished the homestand 3-7 to fall 12 games under .500. They've won just one series at home since June 19.
In the three-game series, the Giants finished 4-for-23 with runners in scoring position and are hitting .197 in their last 32 games in that situation.
"We've mixed it up; they're all getting playing time," Bochy said. "We're doing what we need to do. Someone's got to deliver and come through, and that's what we've been missing."
Giants starter Tim Lincecum bounced back from a disastrous start against the Reds on Monday and went seven innings in his second start since the July 13 no-hitter in San Diego. With the loss, he still has not won at AT&T Park since June 4, when he defeated the Blue Jays. He finished with four hits, 10 strikeouts and two walks in the outing.
"Timmy threw great," Bochy said. "He also had a couple hits there and he really competed very well.
"I'm very, very proud of Timmy for how he pitched. We just couldn't get him a win."
Of the four hits, two proved to be costly. Cubs pitcher Travis Wood and catcher Welington Castillo took him deep for Chicago's two runs to hand the Giants their third one-run loss in as many days. Lincecum said he missed with his location on both fastballs.
"The harder one to take was the second one," Lincecum said. "To give it back like that was tougher."
Wood clubbed his third home run of the season in the fifth to give Chicago a 1-0 lead. When Lincecum singled to lead off the run-scoring fifth, the pair of pitchers had combined for four of the game's five hits.
"I'm always surprised," Wood said of hitting one out of the park. "I'm not up there trying to hit homers. I'm just trying to put good swings on it. I was able to get two hits today and fortunately one of them went over the fence. Unfortunately, I gave it up the next inning."
After squandering bases-loaded opportunities in the final two innings of Saturday's 1-0 loss, the Giants' struggles with runners aboard continued Sunday when they floundered with the bases full in the third inning.
Finally, in the fifth, Pablo Sandoval's double scored Marco Scutaro to snap a 15-inning scoreless streak. San Francisco had loaded the bases with nobody out, but Buster Posey grounded into a 5-2 double play as third baseman Luis Valbuena stepped on third and threw home, where Lincecum was tagged out.
"Buster hit the ball well there, but it's a double play," Bochy said. "Pablo picked him up and we had a couple more guys on, but we didn't finish."
The Cubs regained the lead with Castillo's two-out home run in the top of seventh on Lincecum's 109th pitch of the afternoon. With the blast, the Cubs' two runs came on home runs from their Nos. 8 and 9 hitters.
"It's a little deflating, but you can't look at it as something that will get us down," Lincecum said of the club's struggles.
Fittingly, the Giants' last out was made with the potential tying run on third base. Pinch-hitter Kensuke Tanaka had drawn a two-out walk, stole second and scampered to third on a throwing error by Castillo. Gregor Blanco left him there with a game-ending popout.
Wood stifled San Francisco in yet another meager performance by Giants hitters. He allowed just the one run (it was unearned) in seven innings while striking out seven.
In the three-game sweep, San Francisco starters allowed just three runs in 22 innings after beginning the series with the worst starting rotation ERA in the National League. The Giants now face a double-digit deficit in both the division and Wild Card races, but have to go 36-22 to finish the season above .500.
Andrew Owens is an associate reporter for MLB.com. Follow him on Twitter @OwensAndrew. This story was not subject to the approval of Major League Baseball or its clubs.