With four homers, Rox claw back twice to clinch series
With four homers, Rox claw back twice to clinch series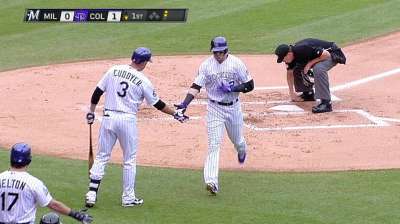 DENVER -- If the Rockies' backs weren't against the wall, they were inching closer with each loss of the 10-game homestand. But Sunday, they clawed and scratched like their life depended on this very game, their third lead finally enough to hold on in a 6-5 victory at Coors Field on Sunday afternoon.
When Dexter Fowler clanked a go-ahead jack off the bullpen bench in the eighth -- Colorado's fourth solo homer -- it looked like it would be enough for the Rockies to hold on. Nothing, however, was that simple in the win that kept them 5-5 in the first 10 games of the second half.
Reliever Matt Belisle (5-5) was a strike away from ending an uneventful eighth before Yuniesky Betancourt snuck a two-run homer over the left-field wall to give the Brewers a 5-4 lead.
"As soon as it left my hand, I knew it was not going to be good," Belisle said. "That ball got away from me. I tried to do a little too much and think of the outcome instead of focusing on the pitch."
But that pitch became little more than an afterthought when Nolan Arenado dropped a single into center to score Michael Cuddyer from third in the bottom of the inning, and the Rockies regained the lead.
Cuddyer reached third on a wild pitch from Brewers reliever John Axford (4-4) -- more than just a footnote with Arenado batting.
"When you get a guy on third and less than two outs, pressure hopefully mitigates, and I think you saw that from Nolan," Cuddyer said.
Before Arenado could be the hero, Troy Tulowitzki ripped a leadoff double to left and scored on Cuddyer's double.
"They did a nice job of hitting," Brewers manager Ron Roenicke said. "Ax comes in the game, and Tulowitzki stays on a 3-2 [slider] and hits it down the third-base line. Cuddyer's at-bat -- this guy is a professional hitter. He knows what he's supposed to do. At all costs, he's going to get the guy over, and he hits the ball the other way."
Down 3-1 heading into the bottom of the sixth, the Rockies tied the game with a pair of solo homers.
Corey Dickerson, playing left field in place of injured slugger Carlos Gonzalez, belted an offering from Brewers starter Donovan Hand over the right-center-field wall for the first homer of his big league career. Two batters later, Cuddyer tied the game, sending a 2-0 pitch into the Rockies' bullpen.
Home runs proved Hand's downfall, as he left after the Rockies' sixth-inning rally having given up three runs and eight hits.
Rockies starter Jhoulys Chacin ran into trouble early, surrendering a run in the second, third and fourth frames, but he settled down. He departed after seven innings, allowing eight hits and three runs, walking one and striking out four.
"I think the nice thing is that we're getting good pitching, and that's a great place to start," Rockies manager Walt Weiss said. "We're seeing signs of the bats coming around, and I keep sticking to the fact that it's a talented offensive lineup, and I don't think you can hold it down forever.
In the first, Brewers shortstop Jeff Bianchi, playing in place of Jean Segura, laced a grounder off Chacin's glove, letting a potential double play turn into the Brewers' first run.
One mistake in the third cost Chacin another run when Norichika Aoki belted a fastball into the Rockies' bullpen to give Milwaukee its first lead of the day.
The Brewers made it 3-1 in the fourth on another Bianchi single before Chacin shut them down for the next three innings.
"I was getting one run each inning, so I said, 'You need to calm down, just make your pitch, and just throw the ball down,'" Chacin said. "That's what I did, just start throwing my ball down, mix a little bit with sinkers. I threw the last three innings good, and gave the team a chance to come back."
Tulowitzki handed the Rockies an early one-run lead with a solo blast in the first, his 19th and third since returning from a broken rib that sidelined him for nearly a month.
The win gave the Rockies their second series victory of the homestand, a much-needed jumpstart before they begin a 10-game road trip that takes them through Atlanta, Pittsburgh and New York.
"I'd be lying, I think anyone else in here would be lying [to say there wasn't a sense of urgency]," Belisle said. "We all talked amongst ourselves and understand that we know where we are and we know who we're chasing. But if we're going to do this, we have to pick up how we've been playing, and that started with this series."
Ian McCue is an associate reporter for MLB.com. This story was not subject to the approval of Major League Baseball or its clubs.