Colabello continues rise even as Twins fall
Colabello continues rise even as Twins fall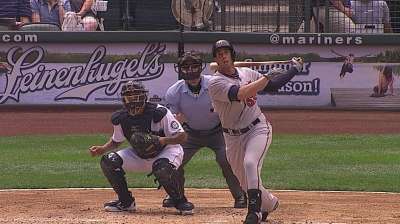 SEATTLE -- The Twins found a spark for their sputtering offense while on the West Coast: A seven-year veteran of a faraway independent league who is blossoming after getting some advice from advice Tony Oliva.
Canadian-American Association veteran Chris Colabello homered for the second time in three days, had a third home run stolen from him, then added a double to start a two-run sixth inning Sunday. But two home runs allowed by erratic rookie starter Kyle Gibson, including one in Seattle's four-run fourth, sent Minnesota home with a 6-4 loss in the finale of a seven-game West Coast trip.
Yet the Twins are still 6-4 since the All-Star break, and they finished their swing through Los Angeles and Seattle at 4-3. It was their first winning road trip since sweeping a two-game trip in Chicago against the White Sox from April 20-21. This was their first winning trip of more than one series since they went 4-2 in Cleveland and Detroit last Sept. 18-23.
"A good series ... a decent road trip," said Ron Gardenhire.
And they did it mostly without the offense's main igniter, Joe Mauer.
The Twins' stretch of games without their All-Star catcher is now over. Gardenhire reiterated the Twins' intent to reinstate Mauer to the roster Tuesday for the home series opener against Kansas City. He spent last week on paternity leave as his wife, Maddie, gave birth to twins. Minnesota went 3-3 without Mauer on the trip, scoring 10 runs Tuesday against the Angels, then 13 runs over the final five games of the swing west.
The Twins are 4-5 this season without Mauer, with 34 runs scored in those nine games (3.78 runs a game).
Colabello was not with the Twins for the first of Mauer's days off in May.
He was sure with them this weekend.
Before the series opened Thursday, the then-scuffling 29-year-old whom Minnesota signed last year as a Minor League free agent off the Worcester Tornadoes of the CanAm League had a phone conversation with Twins special assistant Oliva. Colabello, of course, was all ears with the 1964 American League Rookie of the Year, who won three league batting titles and made eight All-Star teams in 15 years with Minnesota.
"He just told me to trust myself," Colabello said. "And to scoot closer to the plate. Then I watched video and didn't realize how far I was away from the dish [while in the batter's box]."
Since that talk, Colabello is 6-for-14 (.429) with two home runs and four RBIs. His two-run homer in the 13th inning won Friday night's game.
Colabello had 24 home runs and led Triple-A with 76 RBIs when the Twins recalled him July 19. His first callup came in May, after seven years at the lowest level of the Minors. He got that unforgettable initial call to the big leagues in the middle of the night on the team bus from Lehigh Valley, Pa., back to Rochester. He had five hours to get home and catch a 6:30 a.m. flight to meet the Twins in Atlanta for a game that night.
Then the team bus he was on got hit by a car, about an hour out of Rochester.
"At this point," he said with a laugh while retelling the story Sunday, "I don't expect anything to be easy.
"Builds character."
Despite the difficulties, he got the airport on time to join the Twins. Sunday, he gave them a 2-0 lead in the second with a rocket-like homer to straightaway center field off Erasmo Ramirez (2-0).
He would have had his third career home run an inning later, with two Twins on base, had Seattle's Endy Chavez not leaped above the right-field wall for a game-turning catch. Gardenhire called it "another nice swing by Colabello."
"Part of the game, I guess," Colabello said of Chavez's heist, with a rueful laugh. "He's notorious for robbing hitters; I remember way back him doing that in the [2006] NLCS for the Mets against the Cardinals.
"It would have been nice for the team to get more runs there."
Instead of the Twins leading by 5-0, the game stayed at 2-0. That proved too small of a margin for Gibson (2-3). He could not find the plate against Mariners, who were continually taking his sinker for balls early in counts to get ahead, then pouncing on fastballs they knew were coming.
After Kyle Seager's third-inning sacrifice fly, Gibson began the bottom of the fourth by centering a 3-1 fastball. Michael Saunders drove it into the second deck far beyond the right-field wall, into a café area where perhaps only a handful of balls have landed during a game in the 14-year history of Safeco Field.
Later in the inning with two on, after another ball one sank into the dirt, Franklin ripped Gibson's 1-1 fastball that was not nearly as inside as the pitcher wanted. That ball landed 10 rows deep into the bleachers beyond right-center field to put the Twins in a 5-2 hole.
It was the fourth home run allowed in seven innings by Gibson, who gave up two solo homers in the fourth inning Tuesday in a no-decision against the Angels. Gibson had not allowed a home run over his first four Major League starts dating to his victorious debut June 29 against Kansas City.
"This is the second game in a row I haven't gotten strike one," the 25-year-old right-hander said. "As soon as I get strike one it's going to be a whole lot easier for me."
The Twins got within 5-4 in the sixth after Ramirez walked Washington native Ryan Doumit leading off. Colabello doubled him to third before Clete Thomas' single scored Doumit and Aaron Hicks' sacrifice fly scored Colabello.
But another misplaced pitch, this one elevated by Anthony Swarzak with the count 1-2 in the seventh, resulted in Franklin's second home run of the game to make it a 6-4 game.
"I was just trying to make contact and not do anything special," Franklin said after his second career two-homer game since May 30, his fourth Major League game.
Gregg Bell is a contributor to MLB.com. This story was not subject to the approval of Major League Baseball or its clubs.