Franklin's two homers lift Mariners over Twins
Franklin's two homers lift Mariners over Twins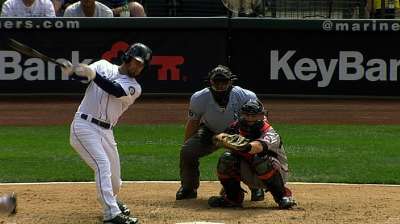 SEATTLE -- Nick Franklin took the home run lead among American League rookies with two Sunday afternoon. The four runs driven in by Franklin's blasts highlighted a sensational day for the club's rookies as Seattle knocked off Minnesota, 6-4, to split the four-game series in front of a crowd of 35,087.
Rookie shortstop Brad Miller went 2-for-3 with a walk, and Erasmo Ramirez picked up his second Major League win. But it was the diminutive second baseman's two homers that stole the show.
"He's small, but he's a strong little kid -- not a little kid, but he's a strong kid," acting manager Robby Thompson said of the 6-foot-1 Franklin. "The way he hits through the ball, he backspins a lot of balls, and that's where he gets his carry."
Still, perhaps the Mariners' biggest lift came from manager Eric Wedge, who visited the team before the game. The skipper has been away since having a mild stroke before Monday's game.
"It was an eye-opener," Franklin said. "It was awesome. He came in, he looked strong, looked like he was ready to go. I thought he was ready for the game today."
Ramirez lasted six innings for the Mariners in his third Major League start of the season. He struck out six batters but allowed four runs on seven hits with two walks.
The 23-year old Ramirez's troubles started in the second inning. Ryan Doumit's line drive bounced off Endy Chavez's outstretched mitt against the right-field wall for a double. Chris Colabello sent Ramirez's next offering over the wall for a two-run home run.
But Chavez recovered to successfully rob Colabello of another home run in almost the same spot as Doumit's attempt.
"That keeps the game at two; it could have been five," Twins manager Ron Gardenhire said. "He made a great play on two of them out there; that's a big three points at the time."
Seattle's infielders cut into the Twins' 2-0 lead in the third inning. Miller singled off starter Kyle Gibson and advanced to third on a single by Franklin, the second baseman. Third baseman Kyle Seager brought Miller home with a sacrifice fly, cutting the deficit to 2-1.
Franklin and Miller in particular have been revelations for Seattle since their callups in May and June, respectively. They bat first and second in the Mariners' lineup, and they anchor Seattle's infield defense.
"We've played together; we played against each other," Franklin said. "Me and him are close to the same age, and working together with him has been a great asset. We both have energy; we both have the fire."
Michael Saunders evened the score in the fourth, leading off with a thundering home run to the right-field second deck. Franklin then added his first homer of the afternoon, also scoring Miller and Henry Blanco to give Seattle a three-run cushion.
The Twins countered Seattle's homers with some small ball in the sixth, nearly tying the game. Doumit walked, and he advanced on Colabello's single. Clete Thomas plated Doumit with a single of his own. Trevor Plouffe flied out to center, allowing Colabello to tag up and take third. Aaron Hicks hit a sacrifice fly to complete Colabello's journey to home plate, cutting Seattle's lead to 5-4.
"You want to just pound the strike zone," Ramirez said. "When you're ahead three or more runs you want to make them swing at pitches, and you go deeper into the game. When they start hitting the ball and getting on base, you saw in the sixth inning I throw more breaking balls. ... That way you have to work more."
The Mariners got more insurance in the seventh inning, when Franklin hit his second homer, a solo shot to right center field. Franklin's blasts give him 10 on the season. In addition to homers, he also leads all AL rookies with 32 RBIs.
With Ramirez out of the game, reliever Danny Farquhar kept Minnesota missing. The righty fanned five batters over two innings, striking out the side in the seventh and allowing just a single in the eighth.
"The job he did was outstanding, and it's just what we needed," Thompson said. "We're a little light in the bullpen, and he grabbed it and ran with it, and did an outstanding job."
Closer Tom Wilhelmsen gave up a single to Hicks to begin the ninth, but he induced a double play from Pedro Florimon. Jamey Carroll grounded out to end the game, giving Wilhelmsen his 24th save of the year.
Jacob Thorpe is a reporter for MLB.com Follow him on Twitter at @Jacob_B_Thorpe. This story was not subject to the approval of Major League Baseball or its clubs.