A's storm back to extend lead atop AL West
A's storm back to extend lead atop AL West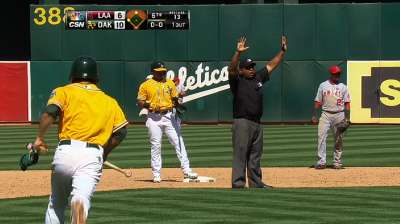 OAKLAND -- To expect anything else is senseless. These are games the A's expect to win.
Obstacles like five-run deficits, absent production from normally reliable players or starting-pitching blunders that result in a career high in walks have become nothing more than minor obstructions easily eluded on the path to victory.
This may not be a formula normally regarded as sustainable over the course of a season, but to be fair, should anyone expect the A's to defer to the way things are "supposed" to happen?
The A's formula employed in their 10-6 win over the Angels on Sunday may not have followed a standard script, but its history of success can't be denied: Oakland is a season-high 19 games over .500 and is tied with Tampa Bay for the second-best record in the American League.
When players like Eric Sogard, whose primary role this season has been platoon second baseman, is the team's most consistent hitter since the All-Star break, and the A's are still able to extend their lead in the AL West to six games -- their largest division lead since Sept. 28, 2006 -- it's hard to think otherwise.
"I didn't for one minute think, being down 5-0, that we're not coming back and doing nothing," manager Bob Melvin said. "It's tough to come back from a five-run lead, but these guys are pretty relentless, so I at least expected something, and we got more than you could ever hope for."
Sogard extended his career-high hitting streak to seven games with a double in the third inning and finished the day 3-for-4 with two RBIs and two runs scored; 10 of his last 18 hits have gone for extra bases.
"After the break I just hit that reset button and kind of went back to finding that Spring Training swing I had," Sogard said. "Not trying to do too much. From the first at-bat I felt really comfortable out there. I've been seeing the ball real well and just having fun."
With many key contributors like Josh Reddick, Brandon Moss and Yoenis Cespedes struggling to recreate their success from last season, it's fallen upon other members of the team, like Sogard, to pick up the slack.
"That's what this team does, just picking each other up all around," Sogard said. "The pitching wasn't there in the beginning and the bats picked it up, but pitching was there later and shut them down."
Indeed, such a comeback isn't necessary without Jarrod Parker's feeble outing. Cheers from the 25,877 in attendance greeted Melvin's emergence from the dugout in the sixth inning following back-to-back walks to start the inning. The seven walks issued were a career-high for Parker, and his four runs surrendered in the first inning bumped his ERA in the opening frame to 7.29 this season.
Beyond any player or team, the source of Parker's greatest misfortune is the first inning. More than half of his 95 total pitches came in the first frame before he settled down to pitch five-plus innings and avoid wounding the bullpen.
"I wasn't as in-command as I want to be," Parker said. "I don't think things were fixed at that point. I was kind of battling all day, but we made some great plays defensively, and I feel like I kind of let our guys down today, battling and walking guys."
Perhaps he did, but this is a team that is committed to rising above when others falter.
"This is a team," Cespedes said through his interpreter, Ariel Prieto. "That's why we call it a team. It's not only one, not only two guys. It takes everyone in the game to be winning."
Cespedes has been a player with minor contributions despite expectations that follow a successful rookie campaign. He entered Sunday having driven in just one run all month and three RBIs over his previous 24 games.
But Sunday served as a reminder of what he's capable of doing if he can return to form. He finished the day 3-for-5 with two doubles and four RBIs in his first multi-RBI game since June 21 at Seattle.
"That was big," Melvin said. "We've had some guys struggling, and then someone else shows up on a particular day, and then someone else shows up. We still have some guys struggling, but we manage to either get just enough or keep adding on like today."
In the fifth inning, Cespedes popped up a sun-aided two-out single that plopped into center field and allowed Brandon Moss to trot home to tie the game, 5-5.
An inning later, with a runner on first and no one out, Stephen Vogt sliced a ball that fell into left-center and prompted a collision between Josh Hamilton and Mike Trout. As the two regained their footing, the ball rolled toward the warning track and a run scored.
The blunder sparked a five-run inning, capped off by a Cespedes double that drove in two.
"It's tough to pick up balls off the bat," Trout said. "The 12 o'clock game [Saturday] wasn't as bad, but when you get that 1 o'clock game, it was pretty much following me the whole day."
Oakland's comeback from the five-run deficit tied its largest come-from-behind victory this season, which pairs nicely with Friday's late-inning rally -- the A's 14th when trailing after six innings all season.
"We know it's still the second inning," Sogard said. "I think this team knows better than anybody that we have a great shot of making a run and coming back there. Sure enough we made it happen."
Jeff Kirshman is an associate reporter for MLB.com. This story was not subject to the approval of Major League Baseball or its clubs.