Tigers sweep slumping Phils behind eventful sixth
Tigers sweep slumping Phils behind eventful sixth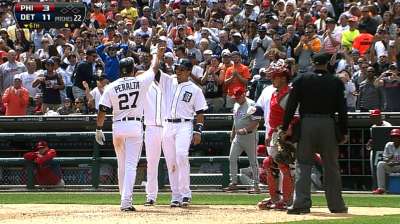 DETROIT -- The Tigers saw plenty of drama, comedy and theatrics in their latest act, a 12-4 win against the Phillies on Sunday afternoon at Comerica Park that completed a three-game sweep.
Detroit scored eight runs on two hits in an unusual sixth inning, punctuated by Jhonny Peralta's grand slam to left field -- his 10th home run of the season and the fourth grand slam of his career. The Phillies committed three errors in the inning and walked three batters as the Tigers broke a 3-3 tie and took a commanding lead.
"At that point, late in the game, you try to get one or two [hits] to get the lead, and that's what we did," Alex Avila said. "They ended up just giving us extra outs and we were able to capitalize."
Philadelphia had a 1-0 lead before the carnival began when Miguel Cabrera stepped to the plate with the bases loaded and one out in the third. He disagreed with the first two called strikes and was ejected with a 0-2 count by home-plate umpire Chad Fairchild for arguing. Tigers manager Jim Leyland was subsequently ejected.
"I was surprised because [on the first pitch] I saw the catcher [move his glove back toward the plate] and [Fairchild] said, 'It was right over the middle.' I said, 'OK,'" Cabrera said. "I saw the next pitch like up and away, and I said, 'That's horrible,' and he said, 'You called more horrible,' and he threw me out."
Phillies starter Jonathan Pettibone struck out Cabrera's replacement, Matt Tuiasosopo, on a called third strike and induced an inning-ending popout to escape the jam.
But the first three hitters reached base via a walk, fielder's choice throwing error and a bunt single in the sixth inning. After an out, a dropped fly ball, a walk, another fielder's choice throwing error and another walk paved the way for Peralta's blast.
"I don't know. That was embarrassing," Phillies' shortstop Jimmy Rollins said. "I've seen a lot, but I haven't seen that."
Like Rollins, Tuiasosopo hasn't seen an inning like that in the Major Leagues either.
"I've seen a lot of bad innings in my career. You see a lot of innings like that in the Minor Leagues, but not here in the big leagues," Tuiasosopo said. "I'm just glad that we kept on putting on them. We kept our focus, kept playing hard, kept making the pitchers throw strikes, which they weren't doing. I was glad we didn't give at-bats away."
Rick Porcello (8-6) won his fourth consecutive start, allowing three runs on seven hits in six innings while striking out three. Porcello went 4-0 with a 2.08 ERA in July, striking out 16 in 26 innings.
"I think I'm starting to recognize when I don't have my best stuff a little bit better right now than I have in the past, and I'm slowing down some situations," Porcello said. "I think today was a pretty good example of that. Really, to be honest with you, I made some dumb pitches and I was able to regain my composure, which maybe in the past I wouldn't have been able to do."
The Tigers have won seven of their last eight games, including the four that Cabrera missed with a left abdominal injury and Sunday's ejection.
"There's some guys like [Ramon] Santiago and Donnie Kelly and Tuiasosopo, they've gotten an opportunity to play and they've stepped up for us," Leyland said. "That's about five out of six or seven games we basically won without Cabrera. That's pretty good."
While the Tigers were fortunate to catch the Phillies in the midst of a slump and abundance of injuries, they'll have to change gears for Tuesday's game against the Nationals, who are also on a three-game winning streak.
"They had a tough day defensively and they had a tough day throwing strikes," Leyland said of the Phillies. "We took advantage of it. We're going to see [Nationals starters Stephen] Strasburg and [Gio] Gonzalez coming up, they'll throw strikes."
Bobby Nightengale is an associate reporter for MLB.com. This story was not subject to the approval of Major League Baseball or its clubs.