Forgettable road trip ends with one ugly inning
Forgettable road trip ends with one ugly inning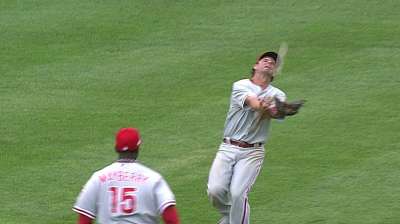 DETROIT -- The road trip mercifully ended Sunday afternoon, but not until a final bloodletting at Comerica Park.
The Phillies lost, 12-4, in terrible fashion to the Tigers to complete one of their worst road trips in franchise history with just one game remaining before Wednesday's 4 p.m. ET non-waiver Trade Deadline. The Phillies return home with an eight-game losing streak, their longest since an eight-game skid in Sept. 2011, and their worst road trip of nine or more games since July 28-Aug. 6, 1995, when they went 1-8 against the Cubs, Braves and Reds.
"I've seen a lot, but I haven't seen that," said Jimmy Rollins, who has been with the team since 2000. "That was embarrassing."
During an unfathomable sixth inning in which the Phillies allowed eight unearned runs, Rollins at one point crouched in front of second base, running his fingers through the dirt.
"If there's a bottom, this has to be it," he said. "I can't imagine things getting worse than they have this past week, culminating the way they did today."
It is hard to remember, but the Phillies opened this trip July 19 with a victory against the Mets at Citi Field to move a game over .500 for just the second time this season. But they followed that victory with two losses to the Mets, three to the Cardinals and three more to the Tigers.
It also is hard to remember, but a season-and-a-half ago, the Phillies won a franchise-record 102 games.
"It's hard, man," Carlos Ruiz said. "It's tough. We're not playing good baseball right now. It's embarrassing to see that. It's almost every day. I'm hoping we come back Tuesday and try to turn around everything."
The Phillies carried a 3-0 lead into the bottom of the fifth inning before the Tigers tied the game against right-hander Jonathan Pettibone. But the sixth inning was one of the ugliest in recent memory, starting with Phillies left-hander Jake Diekman on the mound, continuing with right-hander Luis Garcia and finishing with left-hander Antonio Bastardo.
It included eight unearned runs, three walks (two with the bases loaded), three errors and one grand slam.
"You can't sugarcoat it," Michael Young said. "Whatever could possibly go wrong went wrong."
Diekman walked Andy Dirks to start the inning. Alex Avila then dropped a bunt. Diekman fielded the ball and threw to second base, but the throw hit Dirks in the back to put runners on first and second.
Ramon Santiago then dropped a bunt. Diekman picked up that ball, but the throw arrived late to first to load the bases.
Austin Jackson flied out to right for the first out and Don Kelly followed with a fly ball to left field. Phillies rookie Steve Susdorf, who made his first big league start and picked up his first big league hit in the fifth, went back to catch the ball, but dropped it for the inning's second error. Dirks scored on the play to hand the Tigers a 4-3 lead.
Garcia replaced Diekman, but he walked Matt Tuiasosopo on four pitches to score the inning's second run. Prince Fielder followed with a ground ball to first baseman Darin Ruf. Ruf threw home, but it pulled Ruiz off the plate for the inning's third error and third run.
That play left Rollins drawing in the dirt.
He had not seen the worst yet.
Garcia walked Victor Martinez on 11 pitches to force in the fourth run. Jhonny Peralta then crushed a 2-0 fastball to left field for a grand slam to make it 11-3.
The Phillies do not play Monday, but general manager Ruben Amaro Jr., will be busy. He has maintained for weeks he planned to buy before the deadline, but with the team one loss from its longest losing streak since an 11-game skid in 1999, those plans might change.
"I don't want anybody to leave here," Ruiz said. "But it's not up to us. It's up to the front office."
Rollins tried to be optimistic about the team's future afterward.
"You never hear me talk about the future, but now it is probably appropriate," Rollins said. "There are some good things. We have so many young players getting their feet wet and understanding who they are, so that's a bright spot. Our bullpen … growing pains, definitely. But that's a positive because they get to learn. Unfortunately it's happening at this level at this point, but it bodes well for the future."
Some players on this team might not be around to enjoy that success, if it happens. That same could be said for manager Charlie Manuel, who is in the final year of his contract.
"It's very rare you get to ride out on your high horse," Rollins said. "That's sports. You have highs and lows, and right now, we're low. No one wants to go out not being successful, but if this is his last year, he did what he was brought here to do, and that's to make us contenders and bring us a championship, and he did that. The last two years have been a struggle. We haven't been healthy and haven't had a good product, honestly."
Todd Zolecki is a reporter for MLB.com. This story was not subject to the approval of Major League Baseball or its clubs.