Backed by Stanton, Fernandez fans 13, beats Bucs
Backed by Stanton, Fernandez fans 13, beats Bucs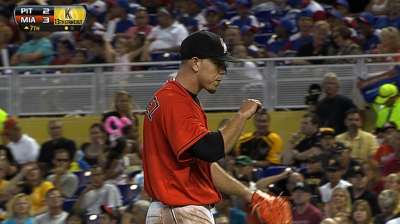 MIAMI -- If Jose Fernandez isn't receiving serious National League Rookie of the Year consideration by now, he should be.
The hard-throwing right-hander made a statement with his most overpowering performance to date. Fernandez established a Marlins rookie record with 13 strikeouts in eight innings on Sunday. Backed by Giancarlo Stanton's solo home run in the sixth inning, Miami edged Pittsburgh, 3-2, to take two of three in the series at Marlins Park.
Fernandez was matched against Pirates phenom Gerrit Cole, who was impressive in his own right. Cole struck out a career-best eight in the showdown of first-round picks in the 2011 First-Year Player Draft.
"I knew that this was kind of a statement game for him," Marlins manager Mike Redmond said of Fernandez. "He knew he was going up against another solid pitcher and that he wanted to out-do him. And he did. He pitched great."
The 13 strikeouts by Fernandez, who turns 21 on Wednesday, are one better than Josh Beckett had as a rookie on July 21, 2002. Twice previously, the Marlins' rookie All-Star struck out 10, most recently on July 1 against the Padres.
Fernandez completely dazzled. He struck out the side in order in both the third and the fifth. His fastball maxed at 99 mph, and he was hoping to receive a chance for his first complete game.
But the Marlins, mindful that Fernandez is a rookie with a promising career, have set an innings limit of around 170. He's at 119 2/3 innings right now, and could be shut down either in late August or early September.
Fernandez lobbied to Redmond about completing the game.
"I told him, 'I'm going out,'" Fernandez said afterward. "He said, 'We'll see.' I said, 'I know what you're doing.' "
After 97 pitches, Redmond pulled the rookie. The manager knew he was setting himself up for the ultimate second guess by turning the ball over to closer Steve Cishek.
The Pirates threatened, putting runners on first and second before Cishek retired Garrett Jones on a ground ball to second.
"Today we developed two pitchers," Redmond said. "We developed a starter and a closer."
The save was Cishek's 22nd.
The Marlins fell behind by two runs, but after tying it in the fourth inning, Stanton delivered the difference-making homer in the sixth.
"I think it's a testament to him," Redmond said of his rookie. "He's always stepped up in big games and big matches. We were fortunate enough to get him a couple of runs. Stanton got the big home run. We scrapped it together and came out with a big win.
"We've seen Jose kind of get to that next level. He was able to do that and he dominated. It was nice."
Strikeouts kept piling up for Fernandez, especially after he allowed two runs in the second. In the sixth inning, the rookie fanned Jose Tabata for his 11th strikeout, establishing a season high.
"He's got a pretty live fastball that's got good finish through the zone," Pirates manager Clint Hurdle said. "He can sink it as well. He was going 93, 98, 99 [mph]. Did he hit ninety-10 today?"
Not quite. Fernandez has yet to reach 100 mph.
Hurdle saw enough to know Fernandez is special.
"I've seen it before," Hurdle said. "I saw Dwight Gooden come up. Absolutely rare. Absolutely rare. It could very well be a special arm and a very special young man on the mound."
After Fernandez reached 11 K's, Pedro Alvarez went down swinging, giving the All-Star at least one strikeout against all nine in Pittsburgh's starting lineup.
"First of all, I love pitching here at home," Fernandez said. "The fans are great here. And [Cole] is a great pitcher. He was in the first round for a reason, and pitching in the big leagues and doing well for a reason. His stuff is pretty good. I saw it hitting. I didn't like it."
Miami fell behind by two runs in the second inning, but rallied with two in the fourth inning to pull even. Cole issued a one-out walk to Stanton, and it started the rally. Logan Morrison singled, and Ed Lucas slapped an RBI single to right field. Morrison moved to third on Lucas' single that chopped just past Gaby Sanchez at first. Donovan Solano's sacrifice fly to center pulled the Marlins even.
Fernandez opened the game with a three-pitch strikeout, fanning Starling Marte on fastballs of 95, 96 and 98 mph. The rookie also got Tabata to tap out to third on a 99-mph fastball, his highest velocity on the day.
But in the second inning, the Pirates aggressively attacked the hard-throwing right-hander. Fernandez threw 12 pitches in the inning, and all were for strikes, which enabled Pittsburgh to attack.
In the span of two pitches, Fernandez surrendered a run. Alvarez jumped on a first-pitch fastball and singled to left. And Russell Martin laced the first pitch he saw into the gap for an RBI double. Another first-pitch swing enabled the Pirates to collect their second run of the inning. With two outs, Clint Barmes slapped a 98-mph fastball into center for an RBI single.
"After that second inning, he had everything working," catcher Jeff Mathis said. "He started mixing in all his pitches and he got everything going.
"You've got two good arms on the mound. They know how to pitch. They threw the ball well. It's fun to watch. It's fun to be out there. Cole has great stuff too. I was glad we were able to push a couple of runs across."
Joe Frisaro is a reporter for MLB.com. He writes a blog, called The Fish Pond. Follow him on Twitter @JoeFrisaro. This story was not subject to the approval of Major League Baseball or its clubs.