Quality start, career high in K's not enough for Cole
Quality start, career high in K's not enough for Cole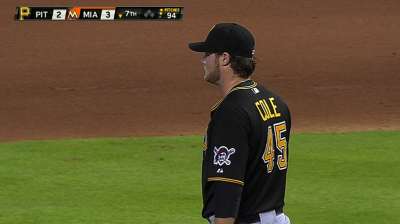 MIAMI -- The Pirates and the Marlins caught a glimpse of the future during Sunday's matchup between former first-round Draft picks Gerrit Cole and Jose Fernandez, meaning neither club caught a glimpse of much offense.
But in a matchup in which mistakes were rare, Cole's last one proved costly. He left a fastball out over the plate in the sixth inning against Giancarlo Stanton, who crushed it 415 feet for the deciding run in Miami's 3-2 win against Pittsburgh at Marlins Park.
"The home run was a bad pitch, and he deposited it like he should have," Cole said. "That's inexcusable there with a tied ballgame."
The Pirates ended their 10-game road trip with a 5-5 record and will go home to face the Cardinals in a four-day, five-game series.
"I'm pleased, but we're not satisfied," Pittsburgh manager Clint Hurdle said of his club's road trip. "We wanted more. We battled 10 games, every game, on this trip."
Cole did his best to make the flight back home a happy one, giving up only three runs on four hits with two walks and a career-high eight strikeouts in seven strong innings. The outing marked his sixth quality start in nine tries.
But Cole was not satisfied.
"It wasn't good enough," Cole said. "So that's really the bottom line."
Although Cole shined, Fernandez was better on Sunday.
Thirteen Bucs whiffed in eight innings against Fernandez -- a Marlins franchise rookie record. The 20-year-old struck out the side in the third and fifth innings.
Fernandez fanned 10 of 13 batters between the third and sixth innings, and he registered at least one K in every inning but the eighth.
When asked if he had seen anything like Fernandez's Sunday performance before, Hurdle thought of another young pitching phenom.
"I've seen it before. I saw Dwight Gooden come up," Hurdle said. "Absolutely rare, absolutely rare. ... It could very well be a special arm and a very special young man on the mound."
But Cole stuck with Fernandez, retiring 14 Marlins on three pitches or fewer and throwing first-pitch strikes to 19 of the 27 batters he faced.
Hurdle was especially pleased with the action on Cole's slider.
"The slider, by far and away [Sunday], had the most development we've seen since he's been here," Hurdle said. "He's had a good curveball, but the slider was the pitch that really gave him some separation [Sunday] that we haven't seen before."
Besides Stanton's homer, Cole ran into trouble only once. After issuing a one-out walk to Stanton in the fourth, Logan Morrison and Ed Lucas notched back-to-back singles to push a run across.
Morrison scored on a Donovan Solano sacrifice fly for Miami's second run, tying the game at 2 and erasing Pittsburgh's early lead.
"The one inning with the seeing-eye hits, that's just kind of the way it goes," Cole said. "Those were some good pitches."
After Lucas' single, Cole settled back in and retired 11 of the final 13 batters he faced. Stanton, who finished 2-for-2, was the only batter who consistently gave Cole trouble on Sunday.
"I executed some pitches, didn't execute some pitches," Cole said. "But for the most part, I did what I wanted to do. And then Stanton later in the game, just kind of a downer."
The Pirates gave Cole an early cushion, getting to Fernandez in the second with an aggressive plate approach.
Pedro Alvarez singled on Fernandez's first pitch, and Russell Martin sent the rookie's very next offering to left field for an RBI double.
Two outs later, Clint Barmes lined a first-pitch fastball into the center-field grass to put Pittsburgh ahead 2-0.
But following Barmes' run-scoring single, Fernandez silenced the Pirates. The All-Star retired 15 of the next 17 batters he faced, outdueling Cole with eight stellar innings. He surrendered only two hits in his final six frames.
Every Pirate in the starting lineup struck out at least once.
"He's a good pitcher," Bucs first baseman and former Marlin Gaby Sanchez said. "Location was pretty key for him. He was keeping the ball down, and he was using his offspeed pitch really well."
Pittsburgh now heads home to host St. Louis in a series critical to the National Central Division race. The Pirates entered Sunday only 1 1/2 games behind the Cardinals, who own the best record in the Majors.
Monday's game marks their first at home since July 14. The Bucs are happy to be playing perhaps their biggest series to date at PNC Park.
"I think the fans have showed that they enjoy good baseball," Hurdle said. "They've been rallying up the past two summers. They've been showing up, and I think the Cardinals series has probably been on their dockets for a while, so I anticipate seeing a very faithful Pirate crowd there tomorrow."
Joe Morgan is an associate reporter for MLB.com. This story was not subject to the approval of Major League Baseball or its clubs.