Rangers shut down by Tribe as skid hits four
Rangers shut down by Tribe as skid hits four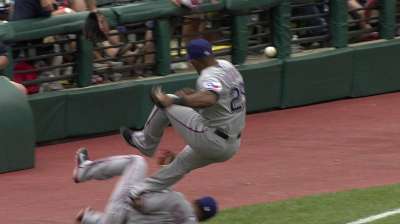 CLEVELAND -- Rangers manager Ron Washington said he doesn't get frustrated. But he can get upset, and that certainly happened on the third day in Cleveland.
Washington had a closed-door meeting with his team that lasted approximately 40 minutes following the Rangers' 6-0 loss to the Indians on Sunday afternoon at Progressive Field. The Rangers have not scored in their last 21 innings and have been shut out three times in their past four games.
Washington didn't go ballistic on his team after they lost for the eighth time in 10 games since the All-Star break. But he did have a lot to say in an unusually lengthy meeting after watching his team "sleep walk" on Sunday afternoon.
"I'm not upset at my team, but I'm upset at the way we played," Washington said. "These are my guys. I'm going to be on their ship until it sinks, and I don't think it will sink. But I thought there was a message to be sent and everybody has to be a part of it. I saw stuff today that I thought needed to be corrected.
"It's a tough game. Everybody struggles. A lot of things happen that don't go in your favor. But toughness never goes away. Every day you have to be tough. Today was just a different animal. It looked like we were sleeping walking."
The Rangers' offense managed just two hits and three walks on the afternoon against Indians starter Ubaldo Jimenez, who went eight innings, and reliever Vinnie Pestano. They were 0-for-3 with runners in scoring position.
"We didn't show a lot of life today," outfielder David Murphy said. "But we had a good meeting and everybody is on the same page and we need to get back on track. It's a challenge, but that's exactly what the mission is: bring the same energy and effort to the field every day."
The Rangers are hitting .241 with a .340 slugging percentage since the All-Star break while averaging 2.5 runs per game.
"Our mentality has to be stay positive and keep playing," shortstop Elvis Andrus said. "The next few series are big. We can't let bad things stand in our way."
This is the first time the Rangers have been swept in a three-game series in Cleveland since 1980. The Rangers lost, 11-8, in 11 innings on Friday and 1-0 on Saturday.
"I didn't have this feeling the first two nights," Washington said. "We played and got beat. There is a difference between getting beat and losing. What I want to see is the Texas Rangers. I saw the Texas Rangers the first night. I saw the Texas Rangers the second night.
"I didn't see what I thought were the Texas Rangers today."
Rangers starter Alexi Ogando started the afternoon pitching four scoreless innings. But the Indians broke through with two outs in the fifth as Ogando walked Michael Bourn and gave up singles to Nick Swisher and Jason Kipnis. Robbie Ross then took over as Ogando left having thrown 92 pitches in his second start since coming off the disabled list.
"For five innings, they had baserunners on in every inning," Washington said. "With [92] pitches in five innings, I thought he was through."
Ross got the Rangers out of the inning by striking out Asdrubal Cabrera but got into an immediate jam in the sixth. Michael Brantley and Carlos Santana opened the inning with back-to-back singles. Ryan Raburn flied out to right, moving Brantley to third, and Ross got pinch-hitter Mike Aviles to pop out in foul territory.
That gave Ross a chance to get out of the inning, and Yan Gomes followed with a shallow fly ball down the left-field line. Andrus and third baseman Adrian Beltre both gave chase. Beltre, running with his back to home plate, got his glove on the ball in foul territory, but then stepped on Andrus, who was going for a sliding catch while trying to avoid his teammate. Beltre tumbled to the ground and dropped the ball.
"I was about to start getting the ball, and as soon as I saw him, I pulled my glove trying not to get killed," Andrus said.
Both players ended up surviving and it went as a simple foul ball. But it cost the Rangers three runs. Gomes stayed at the plate and ended up grounding a single through the middle to bring home Brantley. Bourn followed with a double to left-center to bring home two more runs.
Aviles added a two-run home run in the eighth, and the Indians now have a better record than the Rangers. Not only are the Rangers dropping farther behind in the American League West, they are now trailing three teams in the Wild Card standings.
"Maybe sometimes you catch teams at a good time, because you'll probably look up and -- I don't know who they play tomorrow -- but you'll probably see them beat up on somebody," Indians manager Terry Francona said. "There's so many ups and downs in the season that sometimes you catch a team when they're not hot or not swinging the bat real well. Fortunately, we took advantage of it."
T.R. Sullivan is a reporter for MLB.com. Read his blog, Postcards from Elysian Fields, and follow him on Twitter @Sullivan_Ranger. This story was not subject to the approval of Major League Baseball or its clubs.