Indians sweep Rangers behind stellar Ubaldo
Indians sweep Rangers behind stellar Ubaldo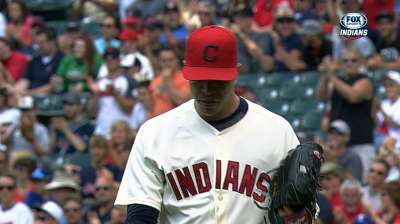 CLEVELAND -- If their play this weekend was any indication, the Indians are going to remain competitive in the American League Central for the rest of the season.
After starting the second half with a lousy road trip, the Tribe returned to Progressive Field and swept a solid Rangers ballclub. Starter Ubaldo Jimenez continued the rotation's recent roll with eight shutout innings on Sunday, as Cleveland won, 6-0, for its fourth victory in a row.
A day after All-Star Justin Masterson threw 7 2/3 scoreless innings in a 1-0 win, Jimenez (8-5, 4.17 ERA) went out and led Cleveland to its 14th shutout of the season, the highest total in baseball.
"It just shows you the quality of pitching we have," said Mike Aviles, who hit a two-run homer in the eighth inning. "When you have an offense as potent as theirs, you don't usually see a team like that get shut out twice. I think that shows how nasty Masty was and Ubaldo today."
Across eight frames, Jimenez surrendered just two hits, while walking three and punching out six. The tall right-hander threw 110 pitches, 64 for strikes. He played a pivotal role in handing Texas consecutive shutouts for the first time since September 2009.
The Indians (56-48) have won seven of Jimenez's last nine outings. He has kept the opponent to two earned runs or fewer in 13 of his 21 outings this season, while allowing no more than three earned runs in 11 of his last 12 starts.
"I think it was the fastball, and the other thing was staying aggressive," Jimenez said. "I've been aggressive in prior games, but I wasn't able to stay aggressive. I would get hitters in 0-2 counts, and I've been walking them. But today, we were able just to go after hitters and stay ahead."
With Jimenez's performance, the rotation is 8-2 with a 1.79 ERA over the past 16 games.
"It's a good competition," Jimenez said. "You don't want to be the guy that doesn't compete. You don't want to be the guy that is not going to give his team a chance to win. ... I think it's good for the team."
Reliever Vinnie Pestano took over for Jimenez in the ninth inning. He issued a leadoff walk but induced a double play and struck out Adrian Beltre to seal the win.
In addition to Aviles' homer -- his sixth of the season -- the Indians scored once in the fifth and three times in the sixth, which began with singles by Michael Brantley and Carlos Santana. Rangers reliever Robbie Ross then retired the next two hitters, but Yan Gomes laced an RBI single up the middle and Michael Bourn drove in two runs with a double to left-center.
An inning earlier, Bourn drew a two-out walk, moved to third on a single by Nick Swisher and came home via Jason Kipnis' base hit to right field.
Swisher and Gomes each finished with three hits. Bourn went 1-for-4 with two RBIs, a run scored and a walk. Bourn has hit safely in six straight games.
"He seems to be right in the middle of a lot of what we're doing when it's good, and that's a good sign for us," Indians manager Terry Francona said of the club's center fielder and leadoff hitter. "He's such a catalyst for us, so if he gets on a couple times a game, good things are going to happen for us."
Texas starter Alexi Ogando held the Tribe in check for the majority of his outing, but it didn't last very long. He exited after 92 pitches and 4 2/3 innings, during which time he gave up six hits and one run. Ogando (4-3, 3.05 ERA) walked two and struck out one.
"We made Ogando work," Francona said. "We didn't have a whole lot to show for it for five innings, but we made him work for everything, and we had his pitch count up. They had to take him out. Sometimes, that's the way you beat good pitchers, because his stuff is filthy."
Elvis Andrus' first-inning double gave him a base hit in each of his 37 career games against Cleveland. That's the third-longest hitting streak for a player against one team since 1900. Boston's Jacoby Ellsbury hit in 38 straight against Baltimore (2009-12) and the Angels' Vladimir Guerrero had 44 consecutive games with a hit against Texas (2004-06).
With the win, the Indians swept a series of at least three games against the Rangers (56-49) in Cleveland for the first time since August 1980. At Progressive Field, the Tribe has won seven straight and recorded a 31-13 record since April 30, the second-best home mark in baseball during that span.
After committing nine errors during the recent 2-4 road trip, Cleveland exhibited exceptional defense on Saturday and Sunday, with Swisher, Asdrubal Cabrera and Ryan Raburn all contributing stellar plays in the series finale.
"I think the biggest thing wasn't so much the sweep necessarily, it was more playing the clean games," Aviles said. "It's definitely good to get back home and play some good, quality baseball and just get back on the winning side."
Mark Emery is an associate reporter for MLB.com. This story was not subject to the approval of Major League Baseball or its clubs.