Ross' eight-inning gem shuts down D-backs
Ross' eight-inning gem shuts down D-backs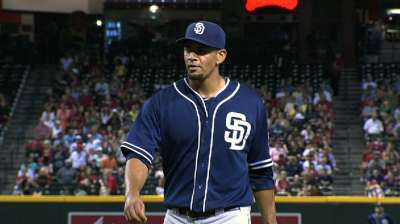 PHOENIX -- Short of feeling sorry for the D-backs, Padres third baseman Chase Headley had the slightest twinge of empathy in his voice Sunday when asked about what Arizona's hitters had to cope with facing pitcher Tyson Ross.
"That didn't look fun at all," Headley said.
Leaning on a mid-90s fastball and a devastating slider, Ross tossed eight scoreless innings as the Padres defeated the D-backs, 1-0, before a crowd of 24,864 at Chase Field.
Ross, in his second start since returning from Triple-A Tucson where he worked to get stretched out to start, allowed three hits, walked one batter and had seven strikeouts. It was easily his best outing this season for the team and perhaps provided a glimpse of big things to come.
"An outstanding pitching performance," said Padres manager Bud Black. "Consistent arm slot, consistent release point, consistent finish. I thought today was a steady diet of very good pitches."
He needed every one of them, facing D-backs All-Star pitcher Patrick Corbin, who was good in his own right Sunday, allowing one run on six hits with eight strikeouts in eight innings.
"Corbin was tough. We got the run in the first inning and he stymied us the next seven. He didn't back down. Tyson had to pitch with him and he did," Black said.
But it was Ross who pitched like an All-Star, working fast, setting up hitters with his fastball, then finishing them off with his slider. He threw a handful of changeups, but mostly relied on the two pitches that worked well for him from the start.
"[The slider] was there when I needed it," Ross said. "Once we got a sense that it was working, it was a go-to pitch for us."
The Padres, who finished off a 6-4 road trip to St. Louis, Milwaukee and Arizona, got Ross a run in the first inning when Headley tripled to center field with two outs and then scored when Carlos Quentin -- who has 20 RBIs in July -- turned on a tough slider and bounced it into left field for a run.
From there, the game was all about pitching -- on both sides.
The D-backs looked in position to tie the game in the third inning when their No. 8 hitter, shortstop Cliff Pennington, tripled down the first-base line into the right-field corner. But Ross buckled down. He first got Corbin to fly out to shallow left field. That brought up leadoff hitter Adam Eaton.
With the infield pulled in, Ross went to his slider and got a ball in on Eaton's hands, as he grounded a ball at second baseman Logan Forsythe, who looked Pennington back and threw to first base. Ross finished the inning by striking out Hill on -- you guessed it -- another hard slider.
"[The slider] had a ton of depth, it was almost like a two-seamer," Eaton said. "It had a ton of downward action on it. Sometimes it doesn't have to be a real drastic change in speeds. When your heater, your changeup and your slider all come out of your hand like a fastball, it's difficult to pick up."
There were few anxious moments the rest of the way. Ross retired 10 consecutive hitters in the middle of the game before allowing a one-out single in the eighth inning to Pennington. But he managed to get the next two hitters out, the last a bunt by the speedy Eaton that Ross made a nice play on, throwing to first to finish his 101-pitch outing.
"That's as good as I've seen anyone throw for us in a long time," Headley said. "Some of those pitches went straight down."
Closer Huston Street worked a 1-2-3 ninth inning for his 19th save, as the Padres won their second road series after not having won one since the middle of May. Street has converted his last 11 opportunities for the Padres.
Ross, who began the season as the fifth starter in the rotation, landed on the disabled list in April after he sustained a subluxation of his left (non-throwing) shoulder while hitting.
Ross then returned to pitch out of the bullpen before the organization sent him to Tucson to increase his stamina and endurance before rejoining the rotation. At his current rate, he won't be visiting the bullpen anytime soon.
Last week, Ross allowed one run in six innings in a victory in Milwaukee. On Sunday, he topped that by a wide margin.
"I'm thrilled with it," Ross said, beaming. "I was able to extend my pitch-count and help the team win. I'm healthy again. Hopefully, we can get on a roll."
Corey Brock is a reporter for MLB.com. Keep track of @FollowThePadres on Twitter. This story was not subject to the approval of Major League Baseball or its clubs.