Corbin solid, but offense comes up empty
Corbin solid, but offense comes up empty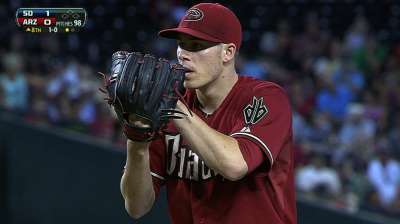 PHOENIX -- When the D-backs began play following the All-Star break on July 19, the club enjoyed a 2 1/2 game lead in the National League West and looked poised to extend that advantage with its next 10 games coming against teams under .500.
Now a week and a half later, the standings have flipped completely around as Arizona suddenly finds itself trailing the Dodgers in the division by 2 1/2 games after it finished the favorable stretch just 4-6, with one of the club's toughest losses of the year occurring Sunday afternoon.
Patrick Corbin was brilliant in eight stellar innings, but the All-Star received no support as the D-backs managed just three hits all afternoon and were shut out by Tyson Ross and the Padres, 1-0, in front of 24,864 fans at Chase Field.
With the advantageous part of the schedule now passed, the D-backs will face teams currently with a winning record in 18 of their next 21 games, including six straight contests next week on a three-city American League road trip.
"We haven't played our best baseball, we know that," said Corbin, who took the hard-luck loss Sunday. "I don't know why, but we're trying to figure it out. Hopefully, we can go over there and get some wins."
Although Arizona didn't threaten much Sunday, the club certainly had its chances to at least tie the game and get Corbin off the hook, but went 0-for-5 with runners in scoring position.
"We don't like to lose these games, it's frustrating," D-backs manager Kirk Gibson said. "Patrick threw a great game for us, but we didn't capitalize on our chance to keep the game going. They got their guy in, we didn't."
Gibson was referring to the third inning when the D-backs, down by one, got a leadoff triple from Cliff Pennington to bring the tying run within 90 feet. But after third-base coach Matt Williams elected to not send the runner on a Corbin fly ball, Adam Eaton grounded out and Aaron Hill struck out to strand Pennington at third.
"We should've got that run in, that's our bad," Gibson said. "They brought the infield in, that's an ideal situation to hit. You have to hit the ball hard in play and think up the middle of the field."
Eaton took the majority of the blame as the position player who failed to drive home the run with less than two outs.
"It seems like that has been my season so far, just not getting the job done," said Eaton, who has just one hit in his last 13 at-bats.
The D-backs put another man in scoring position with less than two outs in the fifth, but Ross struck out Pennington and Corbin with a pair of sliders out of the zone to escape the jam. The only other time Arizona threatened came when Paul Goldschmdit flew out to the warning track in right field in the sixth, the ball falling just a few feet shy of a home run.
Ross finished his afternoon tossing eight shutout innings while striking out seven, the majority of which came on a devastating slider.
"When your heater, your changeup and your slider all come out of your hand like a fastball, it's difficult to pick up," Eaton said. "Hats off to him. He hit his spots and got out of a couple jams, but we needed to put more pressure on him."
Looking for his fourth consecutive victory and 13th of the season, Corbin definitely pitched well enough to win, allowing just the one run on six hits while striking out eight. Unfortunately for the left-hander, he ended up on the wrong side of the pitcher's duel and took his second loss of 2013. After surrendering five runs in six innings on July 2 to the Mets, Corbin has given up just four runs over his last 28 2/3 innings, good enough for a 1.26 ERA.
"Most of the time, if I give up one run, we're going to get the win," Corbin said. "Today just wasn't our day."
The Padres scored the only run of the game in the first inning when Carlos Quentin drove in Chase Headley, who tripled one at-bat earlier, with a two-out single to left. After serving up two more hits in the second, Corbin retired 18 of the final 20 batters he faced.
"The first two innings, I felt like I was still getting loose, but after that I felt comfortable," Corbin said. "I just tried to give up as few runs as I can and give our team a chance to win."
Following Ross' eight dominant frames, the Padres sent in Huston Street, who closed out the game to earn his 19th save of the season.
Tyler Emerick is an associate reporter for MLB.com. This story was not subject to the approval of Major League Baseball or its clubs.