Reds pitchers set franchise K record in 11-inning loss
Reds pitchers set franchise K record in 11-inning loss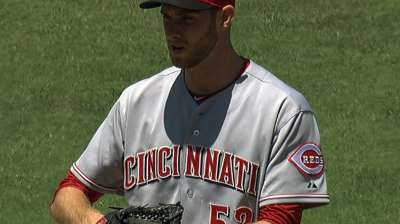 LOS ANGELES -- Until late Sunday afternoon, "Puig Mania" had been kept in the abstract as far as the Reds were concerned. That's because Dodgers slugging sensation Yasiel Puig had been held largely in check over the first three games and most of the finale.
With one swing, Puig rendered moot a spectacular day of Reds pitching. Despite the pitching staff notching a franchise-record 20 strikeouts, Puig's walk-off home handed the Reds a 1-0 loss.
There was one out in the 11th when Puig lined reliever Curtis Partch's 0-1 changeup for a no-doubter into the left-field seats. It was the first walk-off hit of Puig's career.
"It wasn't a terrible, terrible pitch," Reds catcher Devin Mesoraco said. "I think more than anything, it just had a little bit of elevation. In that situation, guys are trying to hit a home run. He was able to get it up in the air. As much as he has chased against us, I wanted it to be a ball. It was pretty close."
Going into the at-bat, Puig had been limited to four singles in 14 at-bats and six strikeouts, including three on Sunday. The Cuban sensation came into the day with a .375 average and nine homers since his June 3 Major League debut.
Although Puig provided the mortal wound, the Reds died of a million paper cuts and, really, all weekend. After notching a 5-2 series-opening win on Thursday, the Reds lost three straight while scoring two runs in 29 innings while going 1-for-18 with runners in scoring position and 0-for-6 on Sunday. Cincinnati, now 4-4 on its 11-game West Coast swing, faced three lefty starters in Clayton Kershaw, Hyun-Jin Ryu and Chris Capuano.
"When you're facing a good pitching staff, you're not going to get a bunch of chances," Reds manager Dusty Baker said. "When you get your chances, you have to capitalize on them. … Everybody talks about on-base percentage, but you have to have some guys that drive runs in or else you're just frustrated."
Reds rookie starter Tony Cingrani came away empty despite giving up only one hit and tying a career high with 11 strikeouts over seven dominant innings. Cingrani faced one batter over the minimum with his lone hit coming when Capuano bounced a two-out single through the middle in the third inning.
"I don't really care about my win-loss record. I'd rather just get a win," said Cingrani, who has a 2.90 ERA in 17 games. "I had my fastball working. I was just moving it, basically, up and in the whole time. I threw some good sliders. It was a good day."
According to ESPN Stats & Info, Cingrani is the first Reds pitcher throw at least seven innings with 11 strikeouts and no more than one walk or hit since Johnny Vander Meer in 1941.
Most of the game, Cingrani's fastball velocity was in the 92-94 mph range, but he struck out Puig with a 95-mph fastball in the first inning. He also flashed some offspeed stuff by getting Mark Ellis to chase an 80-mph breaking ball for a strikeout that ended the sixth.
"He did his job and our pitching staff did their job. We just have to score some runs," Baker said.
Cingrani's lone walk came against Puig in seventh before he picked him off. Adrian Gonzalez and Hanley Ramirez struck out before Cingrani was lifted for a pinch-hitter in the eighth.
Cingrani faced a worthy opponent on the mound in Capuano, who gave up only three hits over 6 2/3 innings -- with Joey Votto recording two.
Over his previous six starts, Capuano had three scoreless outings and three where he allowed five earned runs. This time, he had the "A" game going and retired 15 of his first 16 batters and a stretch of 13 in a row through the fifth inning.
In the top of the sixth, Mesoraco hit a leadoff double to the wall in right-center field and moved to third on Cingrani's sacrifice bunt. With the infield playing in, the Reds attempted a suicide squeeze when Mesoraco broke for home. Derrick Robinson got an outside pitch from Capuano and fouled off his bunt attempt. Robinson followed with a grounder to third base. Running on contact, Mesoraco was easily thrown out at the plate.
"You have to take a shot right there," Baker said. "How many two-out hits have we hit? You have to go on contact. We tried to squeeze him in. We realized runs would be hard to come by. Contact is something you take a chance on."
Cingrani was backed up with strong work from the bullpen. Manny Parra struck out his only two batters in the eighth. Sam LeCure gave up a two-out double but got a strikeout to escape. In the ninth, after an Ellis one-out single, LeCure came up big by striking Puig and Gonzalez to force extras.
"Their guys were on today," Capuano said. "It seemed like Tony had a really good fastball. He was able to elevate it. The guys they brought in out of the bullpen were all solid. It was just good pitching today."
Partch used a pair of strikeouts to work out of a threat in the 10th and struck out pinch-hitter Elian Herrera to start the 11th. The day's 20th strikeout broke a club record achieved five times, most recently on Aug. 28, 2011, vs. the Nationals. The Dodgers set a Los Angeles club record for strikeouts, with the previous mark being 18 set on May 2, 1995, in a 15-inning loss at San Francisco.
None of that mattered two batters later, however, when Puig ended the game.
As the Reds struggled to hit, the red-hot Dodgers weren't exactly juggernauts. Los Angeles scored only nine runs in the four games.
"This lineup is outstanding. They have a really good lineup," Mesoraco said. "They all have some power and hit for average. It's definitely a challenge to go out there and pitch to them. We did the best we could. It wasn't quite good enough today."
Mark Sheldon is a reporter for MLB.com. Read his blog, Mark My Word, and follow him on Twitter @m_sheldon. This story was not subject to the approval of Major League Baseball or its clubs.