LaRoche: August a huge month for Nationals
LaRoche: August a huge month for Nationals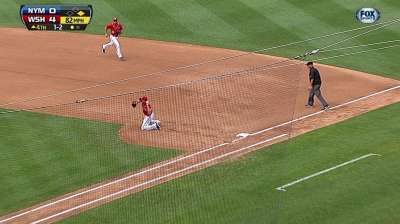 WASHINGTON -- For much of this season, the Nationals have preached patience.
There were plenty of games left to play, and their offense was too talented to stay in a slump all season. It was only a matter of time until luck turned in their favor. Manager Davey Johnson said that the only solution was to "just keep swinging."
But on Sunday morning, veteran first baseman Adam LaRoche offered a slightly more urgent message.
"This is a do-or-die month [coming up]," he said. "You can't go into September 10 games out and expect to do anything. You'd have to win every game in the month and hope other teams lose a bunch. It's just not realistic. You go in there with four, five, six games to work with, you can do something with it. It's a big month coming up, every day. Today's game is huge, tomorrow, the next day. We don't have a cushion at all to be able to sit back."
The Nationals had won three of their past four games entering Sunday's series finale against the Mets. The defeat, an 11-0 blowout in the first game of Friday's doubleheader, was one of the most disheartening losses of the season. Dan Haren called it "rock bottom."
"We don't have any time for hitting rock bottom any more. That's it," he said. "If we're going to hit rock bottom, that was it and we have to go from there."
LaRoche said that the Nationals hit rock bottom long before Friday.
"We've gone about as bad as you can go," he said. "We would bounce out of it, get 15 hits, and then we'd go two days with a total of six hits. I think that was rock bottom. I don't know when it was, but it happened early on. It was like nothing else could go wrong."
Earlier in the week, Jayson Werth noted that the only positive of their disappointing stretch is that the Braves have been playing just as poorly. Atlanta was 11-11 in July entering Sunday, seemingly inviting the Nationals to gain ground. Washington woke up Sunday morning 8 1/2 games back in the National League East and eight games out of the Wild Card.
"We really have nowhere to go but up, especially with the situation in the standings where we're at," LaRoche said. "There's no point in playing on our heels right now. Let's just go all out, take some chances and if it doesn't work, it doesn't work. We're in a pretty deep hole. I'm not saying it's over, but we've got a lot of work to do."
Tom Schad is an associate reporter for MLB.com. This story was not subject to the approval of Major League Baseball or its clubs.