Big days from Ramos, Span back Jordan's first win
Big days from Ramos, Span back Jordan's first win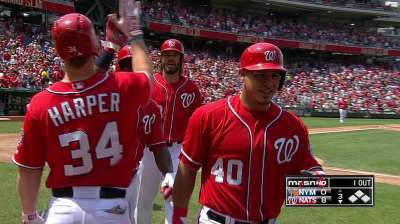 WASHINGTON -- Wilson Ramos hit his first career grand slam, Taylor Jordan picked up his first Major League win, and for at least one afternoon the Nationals played up to their lofty preseason expectations.
With a 14-1 win over the Mets at Nationals Park on Sunday, the Nationals ended their rough 11-game homestand with a little bit of momentum. They recorded season highs in both runs and hits (18) and went 9-for-12 with runners in scoring position. It was the most lopsided win in Nationals history (2005-present), according to CSN Washington's Mark Zuckerman.
"I was waiting for that," Ramos said. "Today, that's an example of what we can do."
The win capped a tumultuous week at Nationals Park, where the Nationals lost six straight games coming out of the All-Star break before winning four of five. With Sunday's win, they moved to within eight games of the Braves in the National League East before Atlanta's meeting with the Cardinals on Sunday night.
"The talent is there. I've never given up on the talent," manager Davey Johnson said. "It's just we need to start expressing it more often."
After scoring most of their runs over the past week with solo homers, the Nationals did their damage Sunday with runners in scoring position. Every starting position player except Adam LaRoche had at least one hit, and five players turned in multihit performances.
Ramos sent a 2-1 fastball from Mets starter Carlos Torres into the visitors' bullpen in left field in the third inning to cap the second five-RBI day of his career. Ian Desmond went 4-for-4 with two RBIs. And Denard Span, who on Saturday said that he's been more aggressive since moving to the No. 7 spot in the lineup, went 4-for-4 and hit his second home run in as many days.
The sixth, seventh and eighth hitters in the Nationals' lineup went a combined 10-for-12 with 10 RBIs and eight runs scored.
"I think the last few days, myself, [Desmond] and [Jayson Werth], any time there's a guy in scoring position, we've been getting on base and just making it tough," Span said. "And then Ramos coming in the eight spot, I mean, that's a deep lineup."
Jordan, who is on an innings limit after undergoing Tommy John surgery in 2011, showed incremental improvement in his sixth Major League start. The 24-year-old allowed just one run on five hits over six strong innings and had a career-high seven strikeouts with just one walk. Four of his seven strikeouts ended with sliders.
"I've been working on my slider a lot and it's finally coming around," Jordan said. "It's definitely more of an out pitch now. ... It seems like it has a little bit sharper break on it."
Jordan was able to pitch with a cushion for most of the afternoon because the Nationals' offense scored eight runs in the first three innings. Ramos drove in one run and Bryce Harper drove in two in the second inning. Desmond brought home Ryan Zimmerman in the third before the Nationals loaded the bases and Ramos hit a grand slam.
"It was just one of those cases where ground balls were finding holes," Torres said. "The balls that they hit were dropping in from the outfield with some timely, big hits. The grand slam was a pitch that I thought was in -- I thought it was actually a bit too far in -- and he hit it out. Desmond hit the ball in the gap the other way. They're a good team, and you have to give credit where credit's due."
The Nationals added two runs in the fourth inning and three more in the sixth, when Werth singled with two outs and advanced to third on a wild pitch and a passed ball. Desmond hit a line drive to center field to score Werth, then Span smoked a two-run homer to right field, his second home run of the season.
"He's swinging the bat a lot better," Johnson said of Span, who raised his batting average from .258 to .266. "He's been more aggressive on balls that are pretty much down the middle. He'll still take the borderline pitches, but I like his approach."
With a 13-1 lead in the seventh inning, Johnson began pulling his regulars from the game. Harper, Werth and Zimmerman each took a seat on the bench and enjoyed the rest of the easy victory.
Relaxing moments like that have been hard to come by since the All-Star break, as the Nationals played an exhausting stretch of 11 games in 10 days. The team dismissed hitting coach Rick Eckstein, lost six straight games, won two games on walk-off home runs and sent former closer Drew Storen to Triple-A Syracuse.
But on Sunday, they finished off the homestand with a blowout victory and looked ahead to a much-needed day off on Monday.
"That's kind of just how baseball works," Zimmerman said. "Last year was one of those years where we were so consistent and we didn't really have too many bad times. I think a lot of people got spoiled with that and expect it to be that way every year. As much as I want it to be that way every year, it's not going to be that way every year. Very rarely three or four teams a year do that. It's tough to do. The way we started the second half is obviously not the way we wanted to, but we fought back and got to keep going."
Tom Schad is an associate reporter for MLB.com. This story was not subject to the approval of Major League Baseball or its clubs.