LoMo getting re-acclimated to playing every day
LoMo getting re-acclimated to playing every day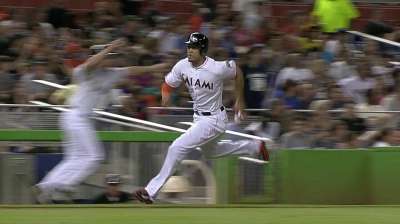 MIAMI -- Producing on a consistent basis is difficult when you've missed prolonged periods of playing time.
Logan Morrison is becoming well aware of this fact.
A pair of right-knee surgeries have caused Morrison to miss substantial time since 2011.
"I think when you have a lot of layoffs, it comes and goes," the Marlins first baseman said. "You've got to find it again. It takes a while to find it."
The left-handed-hitting Morrison is a big part of the Marlins' lineup. He's being counted on as a middle-of-the-order presence, batting either cleanup or fifth.
After undergoing right knee surgery last September, Morrison opened the season on the 60-day disabled list, and he joined the lineup on June 9. After going 3-for-4 in Saturday's 7-4 loss to the Pirates, he raised his batting average to .270.
Initially, Morrison banged up his right knee on Sept. 9, 2011, when he crashed into the wall in foul territory in Pittsburgh. At the time, he was playing left field, and he smacked his kneecap into the side wall.
His first surgery came in December 2011.
"Playing every day again, your body goes through an adjustment," Morrison said. "Also, your mind goes through an adjustment. You don't want your mind to trick your body into something it doesn't need to do."
Morrison made his MLB debut on July 27, 2010. He played a stretch of 172 games from July 27, 2010 to Sept. 9, 2011. In that span, he batted .263 with a .354 on-base percentage, and he hit 21 home runs with 85 RBIs.
Since his initial injury in 2011, he has played in 137 games and is batting .237 (106-for-448) with 19 home runs and 54 RBIs.
The Marlins are banking on Morrison to provide protection for Giancarlo Stanton. Saturday was an encouraging night, because he and Stanton each had three hits.
It's just a matter of performing at a consistent level. Right now, Morrison is going through the process of playing on a daily basis.
"I think it's mechanical for me," Morrison said. "It's definitely not mental. I feel like I'm still having good ABs. I'm just not having results. I'm driving balls to the center-field wall, and they're just not going out. I'm getting walks."
Joe Frisaro is a reporter for MLB.com. He writes a blog, called The Fish Pond. Follow him on Twitter Share This