Astros fall on walk-off after Cosart's impressive start
Astros fall on walk-off after Cosart's impressive start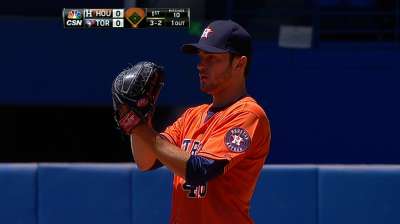 TORONTO -- The Astros watched the Blue Jays fill up the bases inning after inning Sunday afternoon and repeatedly rose to the challenge. If it wasn't a terrific catch by outfielders Brandon Barnes or Robbie Grossman saving the moment, it was a clutch pitch with two outs.
That is, until the ninth inning came around.
Colby Rasmus bounced an RBI single up the middle to score Emilio Bonifacio from second base with the winning run with one out in the ninth to send the Jays to a 2-1 walk-off win over the Astros at Rogers Centre.
"I was just trying to be ready for the fastball, try to make it a pitch I can handle, and put it in play," Rasmus said.
The Jays were 0-for-10 with runners in scoring position prior to Rasmus coming through with the game-winner on a 3-2 pitch from Wesley Wright. Rookie reliever Jose Cisnero (2-2) took the loss after allowing a leadoff double to Bonifacio in the ninth.
"It's one of those games that actually could have went either way," Astros manager Bo Porter said. "Those guys came in and got some big outs and you look at the game-winning hit, it's a ball that's a seeing-eye single that found its way through. I felt like the guys battled extremely hard today."
Houston's bullpen, which has been the subject of much scrutiny the last week, delivered in the seventh inning. Josh Fields left with the bases loaded and two outs following an intentional walk, and lefty Travis Blackley got Rasmus to pop out for the final out.
In the eighth, Cisnero got Jose Reyes to fly out to center field to strand runners at first and third base, both of whom had reached via one of the 10 walks -- two intentional -- issued by Astros pitchers.
"You definitely don't want to try to making a living walking guys and putting guys on base and putting yourself into [those] situations, but I felt like the guys made good pitches," Porter said. "When we were in those situations, it just so happened that last inning there they were able to find a hole and score the winning run."
Astros rookie pitcher Jarred Cosart turned in his third consecutive quality start. He worked six innings -- his shortest outing of the three -- and allowed one run and four hits while pitching around five walks.
Cosart, who has a 0.86 ERA in three big league starts, said he was out of sync in his full windup and pitched better in the stretch, which goes against his history.
"I'm working on some stuff and I threw that out today to try to get through the game, and I'll continue to work going forward in the bullpen," Cosart said. "That's the main thing. You can't walk leadoff guys, especially in the AL. I think 85 percent of time, they score at least one run. It's something I need to get better at."
Wright came into the game and struck out Adam Lind looking after Bonifacio's double to start the ninth. Porter made the wise decision to intentionally walk Edwin Encarnacion, who went 9-for-12 in the series with two homers, eight RBIs and four walks, to face Rasmus.
"At that point, you're just not going to let that guy beat you," Porter said. "If someone else beats you, you tip your cap and walk away. But you don't let that guy, who has been swinging the bat really well and is one of their better hitters -- that's why he's hitting in the four-hole -- you take your chances with someone else."
Cosart was forced to work around traffic in all six innings, walking the leadoff hitter in the third, fourth and fifth and allowing a leadoff double in the sixth. The only run the Jays managed to push across came in the third on a sacrifice fly off the bat of Encarnacion.
"I worked so hard out of the stretch last year, because that was a weak point for me," Cosart said. "I couldn't get anything down and now I'm making better pitches out of the stretch than the windup, which is kind of unusual. You're never going to be perfect in this game, and even the best out there are working on things every day."
Jays starter Todd Redmond struck out a career-high 10 batters in six innings and allowed only three hits, including a home run to Brett Wallace in the fourth inning that tied the game. Astros' batters finished the game with 14 strikeouts.
"We expanded our zone a little bit, which probably aided him in the strikeout total," Porter said. "His pitch count was up pretty high the first three or four innings and we had an opportunity to really get into their 'pen much earlier than we did, and I think we helped him out by expanding their strike zone."
Brian McTaggart is a reporter for MLB.com and writes an MLBlog, Tag's Lines. Follow @brianmctaggart on Twitter. This story was not subject to the approval of Major League Baseball or its clubs.